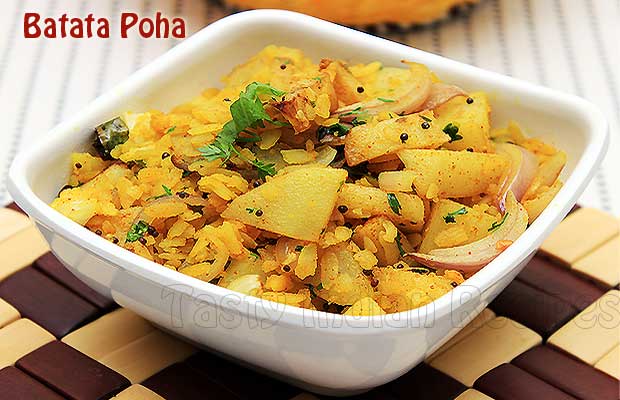 Batata Poha is the great combination of rice flakes, boiled potatoes, capsicum and carrot. It is a typical Maharashtrian style breakfast recipe, which is easy to cook and great to serve.
Preparation Time: 5 minutes
Cooking Time: 10 minutes
Servings: 2-3
Ingredients:
1-1/2 cups beaten rice flakes (poha)
2 potatoes (boiled and peeled)
1 onion thinly sliced
1 tbsp mustard seeds
4-5 curry leaves chopped
4 green chillies thinly chopped
1/2 tsp red chilli powder
1/2 tsp turmeric powder
1/2 tsp cumin powder
2 tbsp oil
Fresh cilantro chopped
2 tsp lemon juice
Salt to taste
How to make Batata Poha:
Wash the poha in normal running water, drain the whole water and place them in a sieve.
Toss the poha by adding salt, red chilli powder, turmeric powder, cumin powder and lemon juice.
Chop the potatoes in small cubes and keep aside.
Heat the oil in a pan and add mustard seeds and curry leaves.
Allow the seeds to crackle and then add thinly sliced onion along with green chillies.
Stir for few seconds until onion translucent and then add chopped potatoes.
Adjust with salt, cover the pan and leave to cook on simmer, till potatoes tenders.
Add poha and chopped cilantro.
Mix very gently and stir just for few seconds to coat the poha into veggies.
Garnish with chopped cilantro and serve piping hot.
Chef Tips:
You may add a pinch of sugar to make the batata poha more flavored.
If poha looks too dry then sprinkle few drops of water over all and then serve immediately.
These poha are extremely tasty when served on the spot.