Kanda Poha Recipe or Onion Poha is the famous Maharashtrian Breakfast simply made with Beaten Rice Flakes and tempered with Mustard Seeds, Curry leaves and Chilies. It's a traditional Maharashtrian Breakfast flavored with lots of Onion.
Kanda Poha is served aesthetically with tiny wedges of lemon and it is such a comfort dish that if you are in a rush, then you can just grab a readily available parcel of poha and have it later as per your convenience in office.
Kanda Poha (Onion Poha) Recipe is my favorite Breakfast dish and I have grown up having poha as Breakfast apart from idli, dosa and upma. My mom used to make poha often for breakfast or for brunch, and she used to add either onion or potato or sometimes both.
Poha is the Maharashtrian word for flattened or Beaten Rice and Kanda means Onions. It is a is a light breakfast which is easy and quick to prepare. Kids also like this poha recipe, hence you can quickly make it for them as a Evening Snack too.
Whenever you are making poha, rinse them very well, and check the grain by pressing it. If it gets crushed/mashed easily, then it will be soft enough while cooking or otherwise if it is dry and does not get mashed easily, then sprinkle little water over it and mix well. I usually rinse the poha in a strainer or colander under running water and then keep them for soaking for a few minutes. (Rinsing the poha grains softens them easily and well cooked).
You can add boiled peas or grated carrot in this poha and for more flavors, Grated Coconut can also be added, but this is optional. Let's start making this quick and easy Kanda Poha (Onion Poha) Recipe.
Chop the Boiled Potato and keep aside.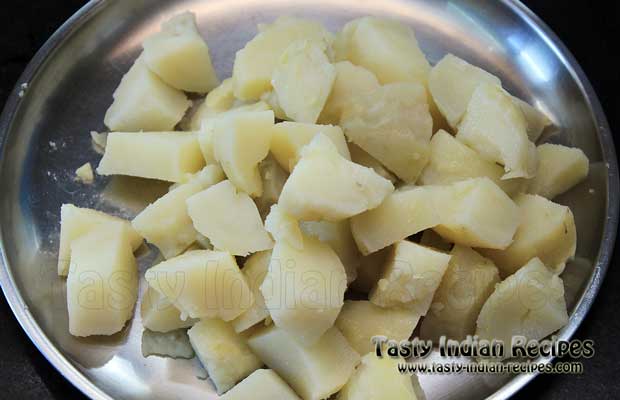 Finely slice the Onion and chop Green Chilies in small pieces and set aside.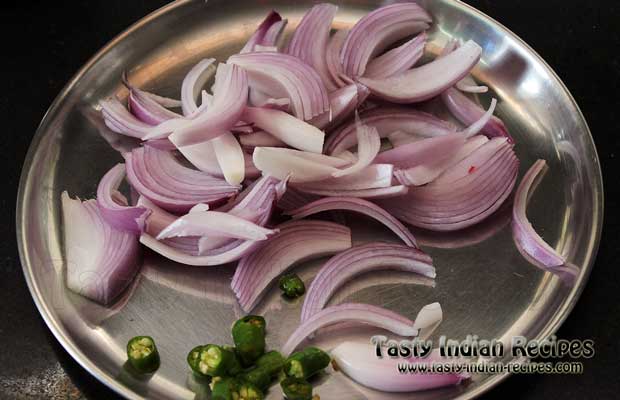 In heating oil add Mustard Seeds and Curry Leaves.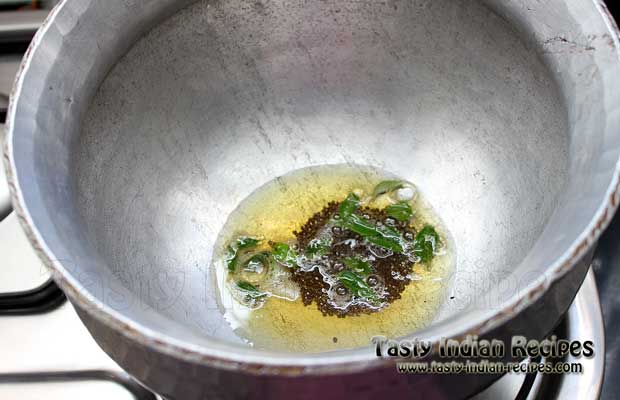 When the Seeds starts to splutter, then add finely sliced Onion and Green Chilies.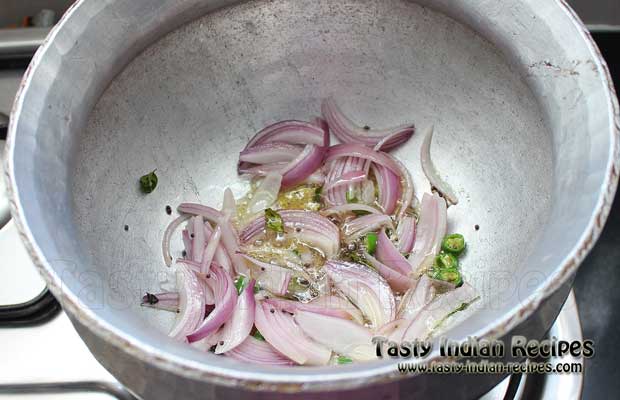 Saute on low flame till onion is translucent.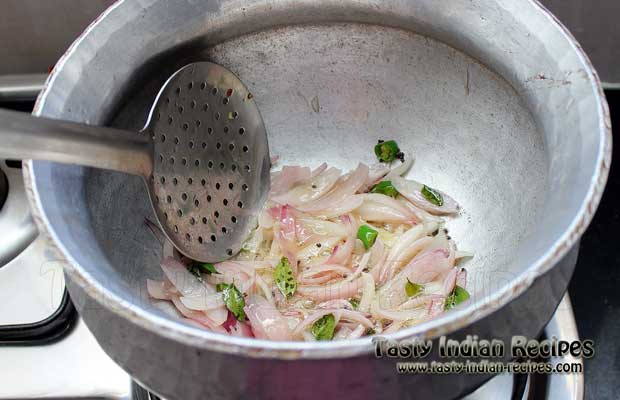 Stir in Peanuts and continue cook on low flame.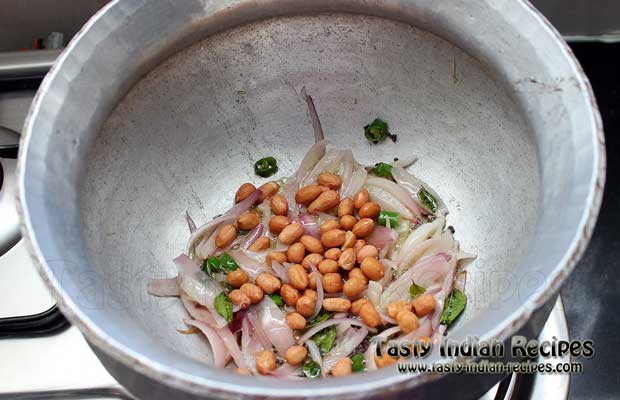 Add soaked Poha, Red chili Powder, Turmeric Powder, Sugar and Salt to taste.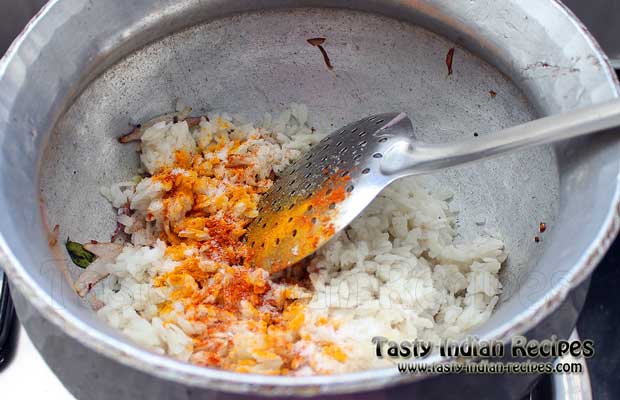 When Poha are well cooked, then Sprinkle some Fresh Lemon Juice and finely chopped Coriander Leaves.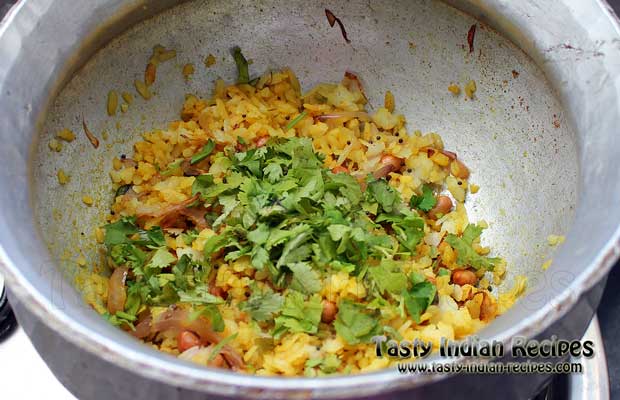 Your Kanda Poha Recipe is ready to serve. You can sprinkle some Nylon Sev just before serving.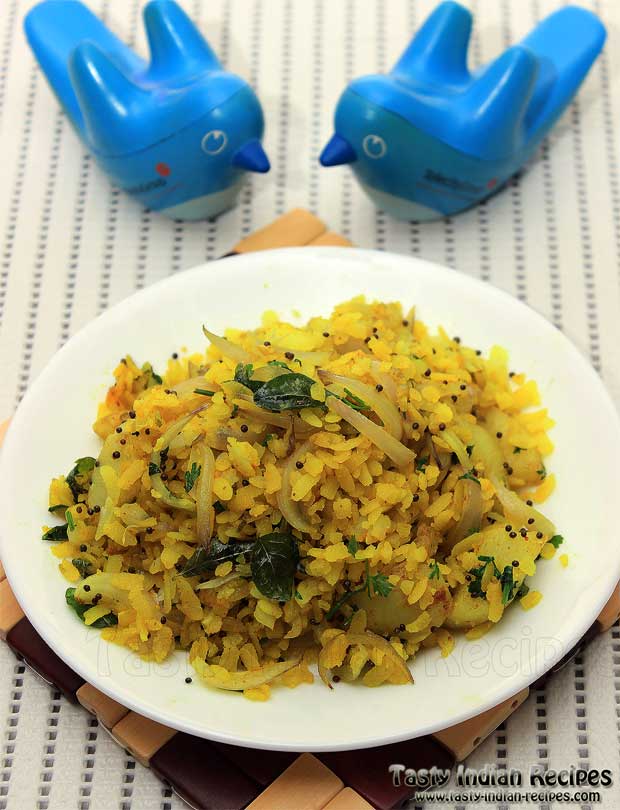 How to make Kanda Poha Recipe:
Kanda Poha (Onion Poha) Recipe
Kanda Poha (Onion Poha) Recipe is the famous Maharashtrian Breakfast simply made with Beaten Rice Flakes and tempered with Mustard Seeds and Curry leaves.
Ingredients
1 cup poha (Beaten Rice / Flattened Rice)
1 big onion, finely chopped / sliced
1 boiled potato (Peeled and chopped)
Few curry leaves
2 green chilies, chopped
1 tablespoon roasted peanuts
1 teaspoon mustard seeds
1/2 teaspoon red chili powder
3/4 teaspoon turmeric powder
A pinch of sugar (optional)
1/2 teaspoon lemon juice
Few fresh coriander leaves, finely chopped
1 tablespoon oil
Salt to taste
Instructions
Rinse the poha in water and put in the strainer, until turns soft. Poha should loose their crunchiness and when you break them between your finger, they should easily get crushed or mashed. Finely slice 1 onion and keep aside. Also chop the boiled potato and set aside.
Heat 1 tablespoon of oil in a pan and throw mustard seeds and curry leaves.
Allow the seeds to splutter and then add 1 finely sliced onion and 2 chopped green chilies.
Saute the onion for 1-2 minutes on low flame, till it is translucent.
Add roasted peanuts and stir for a couple of minutes.
Add soaked poha, 1/2 teaspoon red chili powder, a pinch of sugar, 3/4 teaspoon turmeric powder and salt to taste. Mix all spices very well with poha.
Cover and steam the poha for 2-3 minutes on a low flame. Keep checking after 1 to 1.5 minutes and give a stir again.
Switch off the fire and let the poha remain covered for 1-2 minutes.
Remove the lid and sprinkle some lemon juice and coriander leaves.
Give a gentle stir and serve it hot.
Notes
You can add green peas and chopped carrot in kanda poha. Boiled potato is an optional ingredient in this poha recipe. If you do not have roasted peanuts in your hand, then take normal peanuts and roast them first in some oil before adding in poha. Whole or Crushed peanuts can be used in this poha.
Tasty Indian Recipes