Fry Aloo (Potato) Recipe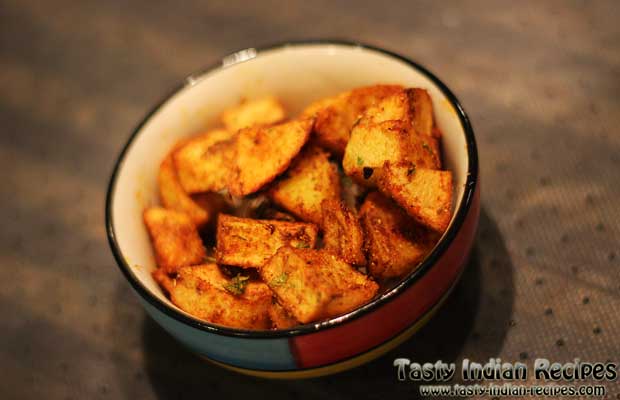 Fry Aloo is simply deep or shallow fried potatoes and then mixed with fresh Indian spices and green cilantro. It is one of the quickest and tastiest recipes, which is best to serve along with dal rice or roti. This recipe is known as kid's favorite. Kids usually like to have it with the roti or bread slice in their breakfast timings. The best thing is that it can be served at any time you want. You can also cut the potatoes in the desired shape, like I have shown in the picture.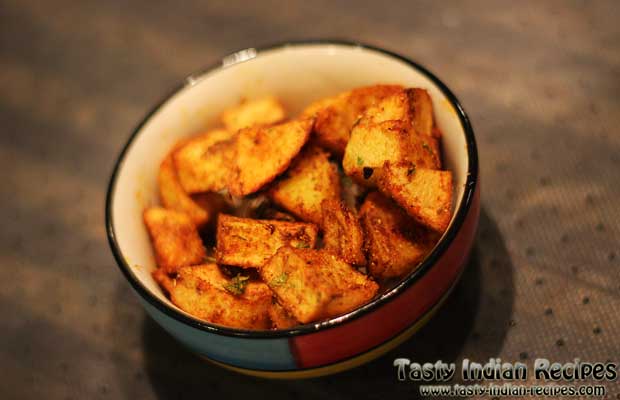 Preparation time: 10 minutes
Cooking time: 15 minutes
Servings: 2-4
Ingredients:
4 medium size potatoes
2 green chillies chopped
1 tsp red chilli powder
1/2 tsp turmeric powder
1 tsp coriander powder
1/2 tsp garam masala powder
1/2 tsp cumin powder
1/4 tsp dry mango powder
Salt to taste
Vegetable oil
Fresh cilantro chopped
How to make Fry Aloo:
Cut the potatoes in the slices or cubes and wash thoroughly in the water.
Heat up a pan, add sufficient oil and shallow fry the potatoes.
Turn off the gas and remove out the oil from the pan.
Leave only 1/2 tsp of oil in the pan.
Do not take out the potatoes.
Add green chillies and saute on simmer with the potatoes.
Add salt, red chilli powder and turmeric powder.
Cover and cook on low flame for 2-3 minutes.
Add coriander powder, cumin powder and garam masala powder. Mix well.
Again cook for 2 minutes.
Add dry mango powder, mix well.
Garnish with fresh cilantro and serve.
Chef Tips:
While serving fry aloo garnish with grated cheese, will look great and yummy.
Drizzle some oil if required at the time of cooking the aloo, as they should not stuck in the bottom of the pan.