Fry Aloo is extremely simple style of making potatoes at home. It is a normal and common fry dish that is generally made in every Indian household. Here Potatoes are stir fried with fresh spices and garnished with coriander leaves.
Fried aloo is always kid's favorite dish, but we all know that it contains lot of fat and we naturally do not want to compromise with the health of our kids, so try to make tasty and crispy aloo in very little oil. I would recommend you not to deep fry them and instead you can make delicious fried aloo in very less oil in my way.
Fry aloo can be made at any time you want, because aloo is one that ingredient which we always keep in our kitchen. You can serve it with hot Indian roti or bread slice. I personally like to make fry aloo as a side dish with dal chawal.
We can never get enough of simple, rustic potato recipes. This humble spud always tops the chart when it comes to popularity and its versatility in cooking. This Fry Aloo Recipe is best to serve with a bowl of Rice topped with dollop of ghee and simple Dal (a creamy lentil dish), this is one meal that never fails to bring smile on your face!
There is a lot can be done with this Versatile vegetable (Potatoes), you can make Potato Capsicum Curry, Baby Potato Fry, Potato Wedges, Potato Pakoda, Potato Toast, Eggplant Potato Curry, Potato Cutlet, etc. Let's start making it:)
Preparation time: 5 minutes
Cooking time: 10 minutes
Servings: 4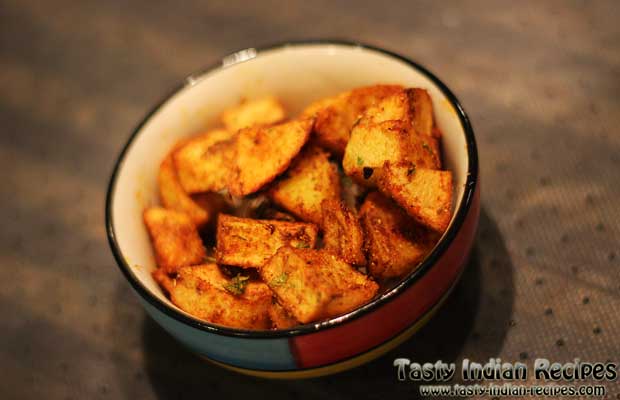 Ingredients:
4 medium size potatoes, cut in cubes
2 green chillies chopped
1/2 tsp Kashmiri red chilli powder
1/2 tsp turmeric powder
1 tsp coriander powder
1/2 tsp garam masala powder
1/2 tsp cumin powder
1/4 tsp dry mango powder
Salt to taste
1 tsp cooking oil
Fresh cilantro chopped
How to make Fry Aloo:
Cut the potatoes either in cubes or you can make slices of it.
Heat oil in a pan over high flame and add chopped potatoes.
Immediately add salt to taste in it. Salt helps in turning the potatoes soft in less time.
Cover the pan, simmer the flame and leave to cook for about 3-4 minutes.
Uncover and check whether potatoes are tendered or not. If not then drizzle few drops of water over it and again cover and leave to cook for few more minutes.
Uncover and add chopped green chilies, red chili powder, turmeric powder, coriander powder, dry mango powder, garam masala powder, cumin seed powder and chopped cilantro.
Toss the potatoes very well with all spices.
Cook for one more minute and fry potato are ready to serve.
Chef Tips:
You can skip the green chilies.
Kashmiri red chili powder gives a nice color to potatoes. If you do not get it then go ahead with normal red chili powder too.