Aloo Capsicum is the combination of Potatoes and Shimla Mirch. It is a dry Indian Vegetable, that is generally served as a side dish with lunch or dinner. Aloo and Shimla Mirch are stir fried in little oil and flavored with Indian spices.
Aloo Capsicum is my mom's favorite dish and whenever she comes at my home, i make it for her. She likes it in any ways, with or without adding tomatoes in it. Last time, I got red bell pepper along with green bell pepper, so I just added half of it in my aloo capsicum dish. Red bell pepper brings a unique taste in this recipe. I also added finely chopped onion in it and guess what? its awesome. Anyways, onion, ginger and garlic are the optional ingredients for making this recipe.
Aloo Capsicum Recipe is known as one of the best combination of Potatoes (Aloo) and Shimla Mirch (Capsicum), cooked in mild Indian Spices. Aloo capsicum sabzi goes well with chapatis and parathas, or you can serve it with dal fry and jeera rice. Let's have a look on stir fried spiced potatoes with green bell peppers.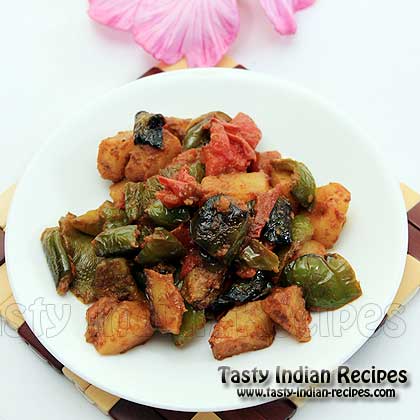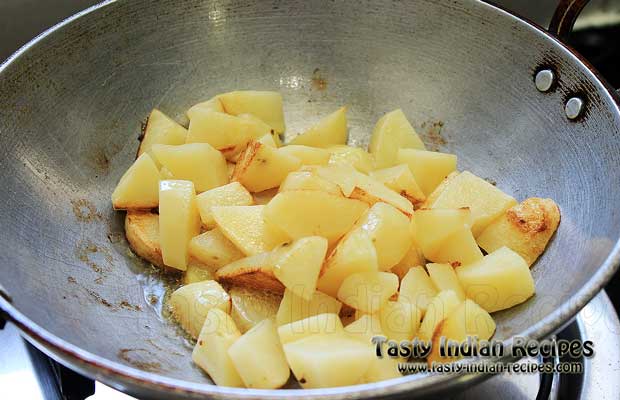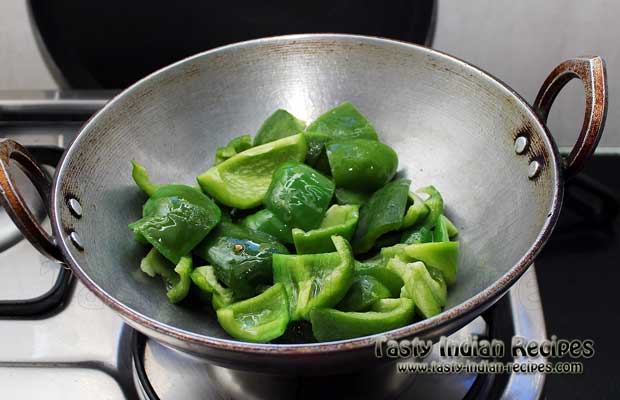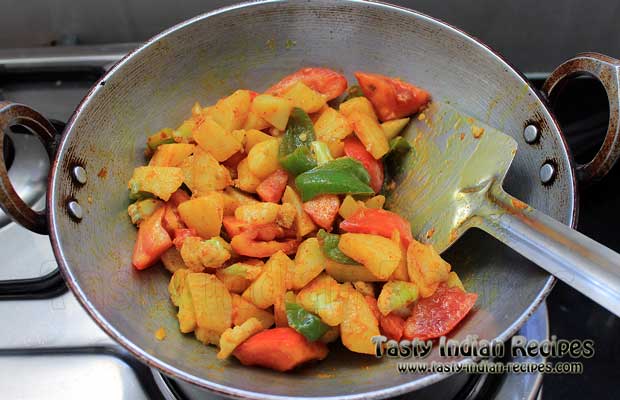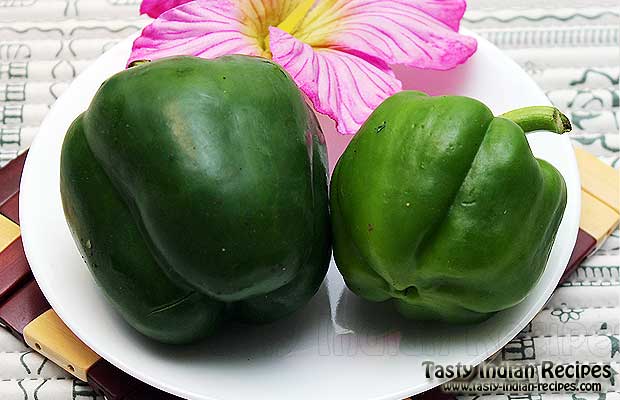 How to make Aloo Capsicum Recipe:
Aloo Capsicum Recipe is made with Stir Fried Potatoes and Shimla Mirch. Potatoes with Capsicum is generally served as a Side dish with Indian meal.
Ingredients
4 medium capsicum (shimla mirch), chopped
2 potatoes, chopped
1/2 cup red bell pepper, chopped
1 small onion, finely chopped
1 small tomato, chopped
4 cloves of garlic, minced
1 green chilli, chopped
1/2 teaspoon red chilli powder
1/2 teaspoon turmeric powder
1 teaspoon coriander powder
1/2 teaspoon garam masala powder
1/2 teaspoon cumin powder
1/2 teaspoon chaat masala powder
2 tablespoon oil
Salt to taste
Instructions
Heat oil in a pan and stir fry the aloo and capsicum for a few minutes.
Take out the veggies from oil and reheat the same pan again.
Now add 1 tsp of oil, if required. Fry chopped onion along with garlic, till translucent.
Stir fry red bell pepper, green chillies and tomatoes for 2 minutes.
Add stir fried aloo capsicum, salt and all spices.
Cover the pan, simmer the flame and leave to cook for about 2-3 minutes.
Serve as a side dish with your Lunch or Dinner Meal.
Notes
Aloo Capsicum can be served as a dry Vegetable Dish with plain Indian Roti, Puri or Naan.
Tasty Indian Recipes
Chef Tip:
Serve Aloo capsicum hot with Plain Indian roti.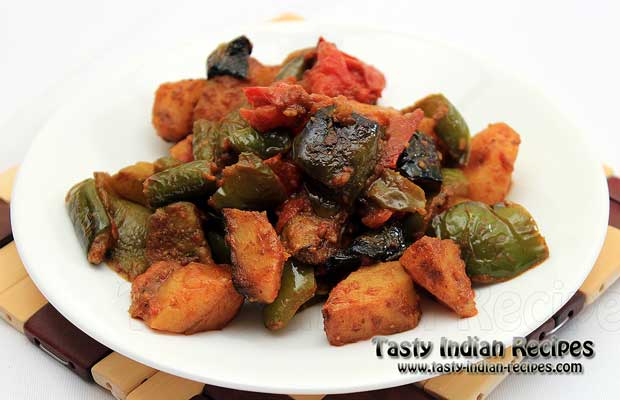 Further Reading:
Few more dry veggie recipes in the blog are Aloo Bhindi Fry, Dry Aloo Gobi Fry, Dry Chana Masala.