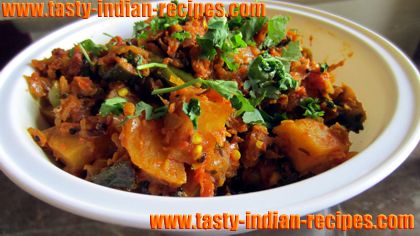 Microwave Aloo Bhindi Masala is a quick and tasty okra-aloo microwave recipe which is specially cooked in a rich Indian masala and flavorful seeds. You can enjoy this special delicacy of North India by making in just few minutes in microwave, because the easy and tasty cooking is only possible with the help of microwave.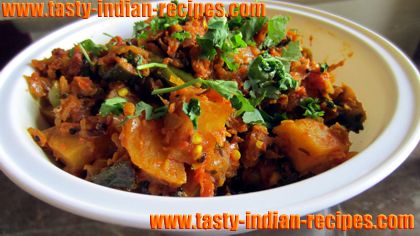 Preparation time: 12 minutes
Cooking time: 20-21 minutes
Servings: 2-3
Ingredients:
200 gms ladies finger (bhindi) chopped
1 medium size aloo chopped
4 green chillies chopped
4 cloves garlic
1/2 inch ginger
1/2 tsp mustard seeds
1/2 tsp cumin seeds
1/2 tsp fennel seeds
1 onion coarsely chopped
2 tomatoes big chunks
1/2 tsp red chilli powder
1-1/2 tsp coriander powder
1/2 tsp garam masala powder
1 tsp dried fenugreek leaves (kasuri methi)
2 tsp vegetable oil
Salt to taste
How to make Microwave Aloo Bhindi Masala:
Combine onion, tomatoes, ginger, garlic and green chillies.
Grind together to make a smooth paste.
Heat the oil in a microwave safe bowl for about 10 seconds.
Combine all the seeds and put in the heating oil of microwave bowl, microwave for 1 minute on high.
Now add chopped aloo and bhindi along with the salt. Mix well, cover and microwave for about 6-7 minutes on high.
Add the grounded paste and other spices, except the kasuri methi. microwave on high for 8 minutes.
Finally add kasoori methi, mix well and microwave on high only for 5 minutes.
Chef Tips:
While making this recipe in microwave keep checking the tenderness of bhindi and aloo.
Adjust the spices as per your taste and preference.
I have added salt while cooking the okra and aloo to make them soft in just few minutes.