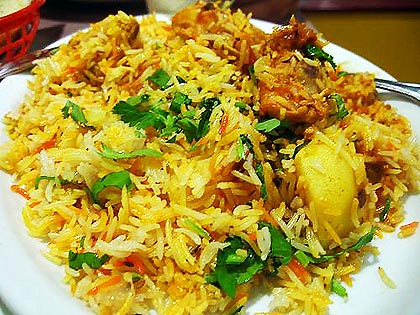 Microwave Chicken Biryani Recipe is a delicious blend of chicken, rice, spices and saffron. The easiest way to make exotic biryani recipe is microwave oven. Learn how to make quick and tasty chicken biryani in just few minutes.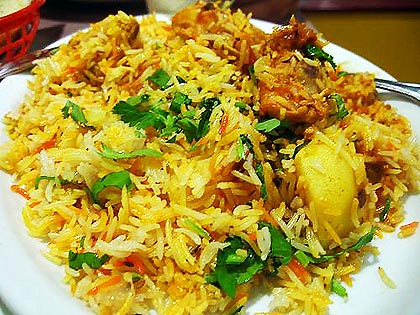 Preparation time: 10 minutes
Cooking time: 20 minutes
Servings: 4
Ingredients:
2 cups basmati rice
2 cups boneless chicken (cut into pieces)
2 medium onions sliced
2-3 tomatoes puree
2 tbsp ginger-garlic paste
3-4 green chillies chopped
1 tsp thick yogurt (curd)
1/2 tsp red chilli powder
1/4 tsp turmeric powder
1-1/2 tsp coriander powder
1/2 tbsp Shaan biryani masala
A pinch of saffron
1/2 cup milk
2 tbsp ghee/oil
4 cups water
Salt to taste
Whole garam masala:
1/2 tsp cumin seeds (whole jeera)
2-3 cloves
2-3 black peppercorns
2 green cardamoms
1 black cardamom
1 cinnamon stick (dalchini)
For garnishing you need:
Few cashew nuts chopped
Few almonds chopped
Few raisins
Fresh cilantro chopped
Few mint leaves chopped
Few brown onions
How to make Microwave Chicken Biryani:
Soak the saffron in milk and set aside.
Wash the rice and soak in water for about 30 minutes.
Drain half of the water and transfer the rice into microwave safe bowl.
Add salt and 1 tbsp ghee.
Cover the microwave bowl and microwave on high for 6-8 minutes.
Allow to stand for next 2 minutes.
Heat the remaining ghee in another microwave safe bowl and add sliced onion, chicken, salt, whole garam masala and curd.
Microwave on high for about 4 minutes and add tomato puree and remaining spices.
Mix very well and microwave for about 5-6 minutes by stirring in between.
Now take a big microwave safe bowl and arrange half of the rice, chicken, biryani masala and garnishing ingredients.
Top with remaining layers of rice, chicken and garnishing ingredients.
Microwave for about 4-5 minutes on high.
Allow the biryani to stand for 6-7 minutes.
Serve immediately with raita of your choice.