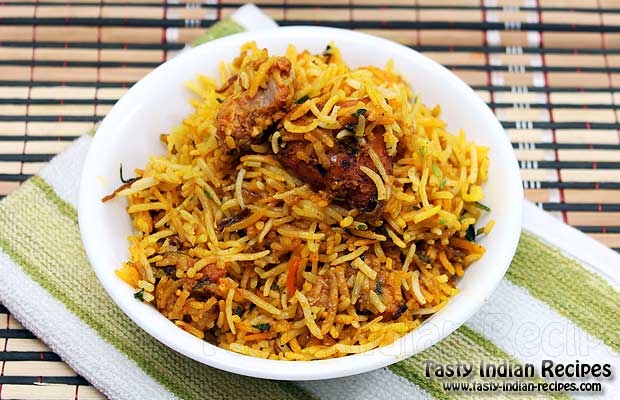 Chicken Reshmi Biryani Recipe is one of the most popular Indian Chicken Biryani Recipe. Here boneless chicken is cooked in basmati rice and flavored with several Indian herbs and spices. This biryani Recipe has lots of aromatic flavors, such as  ghee, cream, cashew nuts and saffron.
Preparation time: 10 minutes
Cooking time: 20 minutes
Makes 4 servings
Ingredients:
2 cups boneless chicken breast (cut into cubes)
1 cup basmati rice
2 onions finely chopped
1 tsp ginger chopped
5-6 garlic cloves minced
4-5 green chillies thinly chopped
2 tbsp curd
1 tbsp fresh cream
1 tsp sesame seeds
8-10 cashew nuts
1 tsp poppy seeds
2 eggs
2 tbsp processed cheese
1/2 tsp red chilli powder
1/4 tsp turmeric powder
1 tsp garam masala powder
1 tbsp lemon juice
Few saffron strands soaked in milk
Fresh coriander leaves chopped
Fresh mint leaves chopped
1 tbsp brown onions (optional)
2 tbsp ghee
Salt to taste
Kneaded dough to seal the pan
How to make Chicken Reshmi Biryani:
Whisk the eggs in a bowl, add processed cheese and keep aside.
Boil the basmati rice in 2 cups of water by adding little bit of salt.
When the rice are 3/4 th done, then Drain through the sieve and keep aside.
Combine the sesame seeds, cashew nuts and poppy seeds.
Grind to make a smooth paste.
Melt the ghee in a big pan and add finely chopped onion.
Fry until onion translucent.
Now add green chillies, chopped ginger and minced garlic.
Saute for few more seconds and add chicken.
After adding the pieces of chicken, keep the flame on very low.
Add curd, salt, red chilli powder, turmeric powder, fresh cream and lemon juice.
Cook only for 2 minutes and turn the gas off.
Allow the chicken to cool completely.
After the chicken is cool down, add eggs mixture and ground paste of cashew nuts.
Mix very well and cover the bowl.
Keep this marinated chicken in the refrigerator for about 20 minutes.
Again heat up a big vessel of making biryani.
Spread a layer of marinated chicken along with the marination.
Make a layer of rice over the chicken, spread the soaked saffron, some brown onions, garam masala powder and thinly chopped coriander and mint leaves.
You may spread some ghee as well and again repeat the same procedure to make the layers of remaining chicken and rice.
Seal the vessel/pan with the lid covered with the kneaded dough.
Leave to cook for about 10-12 minutes on medium high heat.
When the chicken and rice are fully done then you can break the seal of the pan.
Transfer the delicious biryani to a serving dish.
Serve hot with raita of your choice.
Chef Tips:
You can cook this biryani in the oven, it will take about an hour to get cooked.