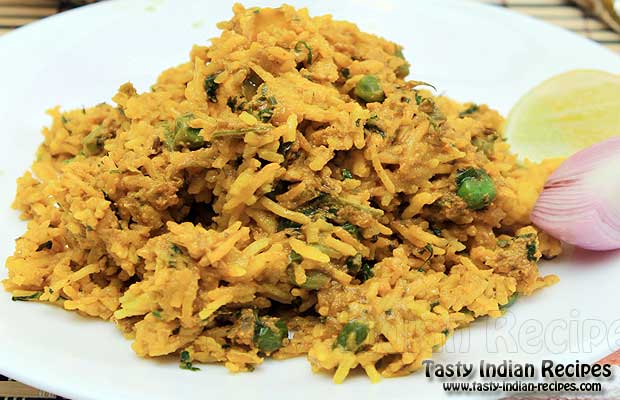 Chicken Mushroom Rice is highly exotic combination of chicken, rice and mushrooms. It can be easily made at home, just need to select proper ingredients and take proper efforts. This delicious main course dish is perfect to serve with raita, salad and roasted papad.
Preparation time: 20 minutes
Cooking time: 30 minutes
Servings: 6
Ingredients:
2 cups basmati rice (boiled)
200 gms chicken (boneless and skinless)
1 cup Chinese mushrooms
Few green peas (boiled)
40 gms bamboo shoots
1/2 tbsp fish sauce
1-1/2 tbsp garlic paste
4-5 basil leaves
1 tsp ginger paste
6 green chillies thinly chopped
2 medium size onions finely chopped
4 tomatoes pureed
1/2 tsp red-orange food color
1/4 tsp yellow food color
Salt as per taste
Fresh cilantro chopped
2 tbsp vegetable/sunflower oil
How to make Chicken Mushroom Rice:
Chop the chicken into medium size chunks, wash and keep aside.
Heat oil in a wok and add ginger and garlic.
Saute for few seconds and add onion along with green chillies.
Fry till onion turns into golden brown in color.
Stir the fried onion by adding tomato puree and leave for few minutes.
Add chicken along with 1 cup of water.
Also add salt, cook on medium high heat until chicken tenders.
Now add bamboo shoots and mushrooms.
Mix very well and stir with fish sauce.
Stir continuously and add basil leaves and boiled rice.
Leave few rice aside for further garnishing.
Mix well and food colors.
Toss, throw boiled green peas and cook only for 2 more minutes.
Garnish with fresh cilantro and few boiled white rice.
Serve hot with raita of your choice.
Chef Tips:
You can add dried shrimps for making it more tasty.
If you do not get Chinese mushrooms then go ahead with normal available mushrooms.