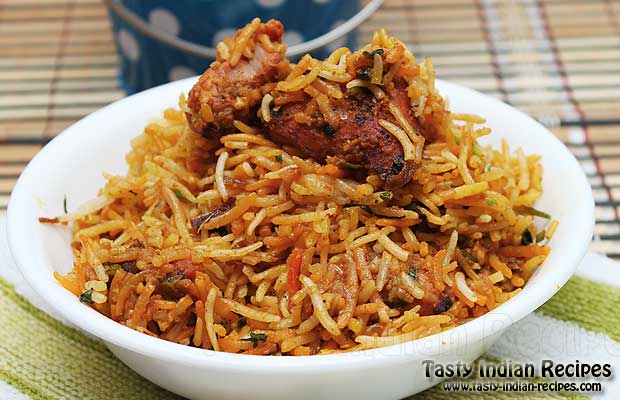 Mutton Biryani Recipe is an exotic blend of goat meat and basmati rice. Here meat is marinated in special preparation of yogurt and then mixed with the cooked rice along with the herbs and spices. One can do the best use of leftover rice for making this delicious mutton biryani.
Preparation time: 10 minutes
Cooking time: 30 minutes
Servings: 6
Ingredients:
500 gms mutton (cut into pieces)
1-1/2 cup basmati rice
2 tbsp thick yogurt
2 tbsp ginger-garlic paste
4 green chillies paste
2 big onions thinly chopped
4 tomatoes finely chopped
1 cup butter milk
1 tsp red chilli powder
1/2 tsp turmeric powder
2 tsp coriander powder
2 tsp meat masala (store bought)
2 tsp ghee
1 tsp oil
1 tsp lemon juice
Fresh coriander leaves chopped
Few mint leaves chopped
Salt to taste
Whole garam masala:
1 bay leaf
2 cloves
1 green elaichi
Few bits cinnamon stick
1/2 tsp shah jeera
A small piece of mace
1/2 star anise
How to make Mutton Biryani:
Wash and clean the pieces of mutton.
Combine yogurt, salt, green chillies, ginger-garlic, lemon juice, oil and mutton masala.
Mix well and add the pieces of mutton.
Keep this marinated mutton aside for 30 minutes.
In the meantime boil the rice in sufficient amount of water with little bit of salt.
Heat the pressure cooker, melt 1 tsp ghee and add whole garam masala.
Saute for few seconds and add onions.
Fry onions until turn into light brown in color.
Add chopped tomatoes, salt, red chilli powder and turmeric powder.
Mix well and keep stirring until gravy becomes medium thick of red color.
Add marinated mutton, coriander powder and 1 cup of water.
Mix well and bring to few boils by stirring occasionally.
Pressure cook the mutton until it tenders, it will take 5-6 whistles.
Uncover and check the consistency of gravy, it should be medium thick.
Switch on the gas and add buttermilk and stir until few boils.
Now mutton is ready also rice are cooked, lets start making the layers of biryani.
Heat a wide shaped pan, place a layer of cooked mutton, then a layer of boiled rice, sprinkle some coriander leaves, mint leaves and little bit of ghee.
In the similar way again make the layers of remaining meat, rice, coriander leaves, mint leaves and top with lots of ghee.
Cover the pan and allow to cook only for a couple of minutes.
Serve hot with boondi raita or vegetable raita.
Chef Tips:
Oil can be used instead of ghee, but the true aroma of biryani comes from the ghee.
You can top this biryani with the butter at the time of serving.
Do not add more water at the time of cooking mutton, its because mutton also releases its water the consistency of gravy for making biryani should be medium thick, else rice will become mushy and sticky.
You can garnish this biryani with dry fruits and nuts.
I have cooked mutton in the pressure cooker, otherwise it can be cooked in a pan as well.