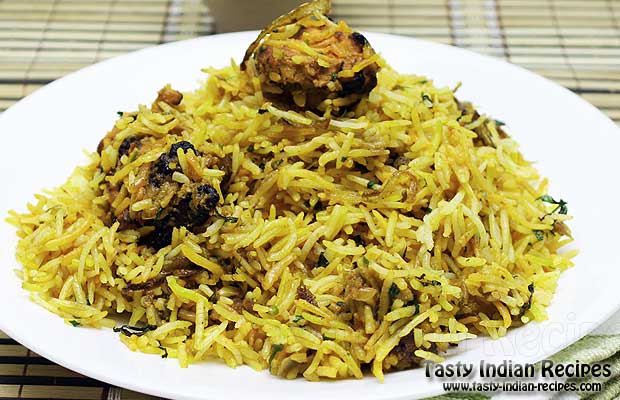 Murgh Koftey Ki Biryani is the unique, fragrant and spicy biryani made in the combination chicken and mutton. Small balls/koftey made with chicken and mutton and then mixed with the basmati rice. The wholesome flavors of ghee, cream, milk and saffron makes a best dinner to serve with raita and pickle.
Preparation time: 10 minutes
Cooking time: 30 minutes
Makes 4 servings
Ingredients:
500 gm chicken leg piece (boneless)
2 cups basmati rice
100 gm mutton kidney fat
4 tbsp Bengal gram flour
4 onions finely chopped
2 tbsp ginger-garlic paste
2 tbsp sour curd
8 green chillies finely chopped
3 eggs beaten
2 cups chicken/mutton stock
2 tbsp brown onions
1/2 tbsp carom seeds (shah jeera)
1 tbsp mint leaves chopped
1/2 tbsp white sesame seeds
1 tsp fennel seeds (saunf)
Few saffron strands
1-1/2 cups milk
2 tbsp fresh cream
2 tbsp pure ghee
Fresh coriander chopped
Salt as per taste
Whole garam masala:
1 tsp nutmeg powder
1 tsp mace powder
1 bay leaf
1 inch cinnamon stick
3-4 black peppercorns
2 green cardamoms
1 black cardamom
2-3 whole mace
How to make Murgh Koftey Ki Biryani:
Wash the rice in normal running water and boil them by adding little bit of salt.
Drain the rice and keep aside in the sieve.
Heat up a big non-stick pan and add boneless chicken leg along with the mutton.
Also add salt, chopped onion, green chillies, beaten eggs, ginger-garlic paste, mace, nutmeg powder, white sesame seeds and carom seeds.
Mix all the ingredients very well and cook the chicken until tenders.
Cool down completely and then mince it very well in the mincer.
In a big vessel add the chicken stock and whole garam masala.
Leave the mixture for few minutes until it starts boiling.
Mix the flour, curd, fennel seeds, salt and saffron in the minced chicken.
Mix very well and make small balls.
Keep the prepared minced chicken balls into the stock and cook for some time.
Add boiled basmati rice, ghee, milk, brown onions and remaining ingredients.
Cover the pan, simmer the flame and leave to cook for about 4-5 minutes.
Serve hot.
Chef Tips:
You can use boneless chicken breast for making this delicious biryani recipe.
Another way to make this dish is that you can soak the rice in water and cook them along with the chicken koftey.
You may garnish the rice with chopped dry fruits of your choice.