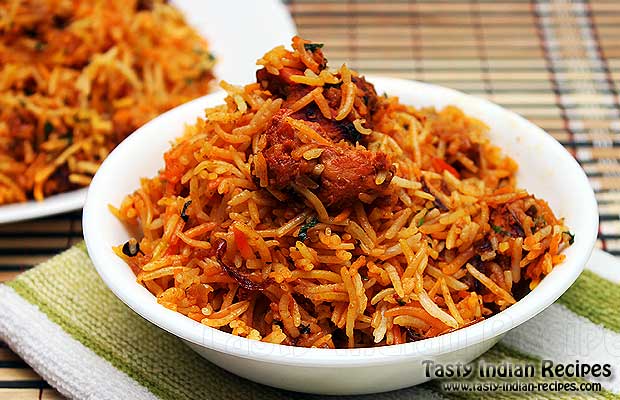 Easy Chicken Biryani Recipe is quickly and easily cooked with Boneless Pieces of Chicken, Basmati rice and spices, and then flavored with Brown Onions and Mint Leaves. Learn how to make Easy Chicken Biryani Recipe with all steps and ingredients in detail. For making it more delicious I have used simple but tasty and flavorful ingredients. This chicken biryani really rocks and melts the mouth of everyone in my family. Learn how to make delicious easy chicken biryani recipe easily and quickly.
Preparation time: 5 minutes
Cooking time: 15 minutes
Servings: 4
Ingredients:
For chicken marinade you need: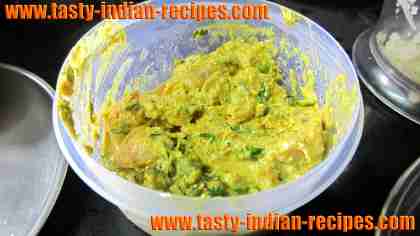 200 g boneless chicken breast
2 tbsp yogurt
1 inch ginger piece
5-6 cloves garlic
4 green chillies
1/2 tsp white sesame seeds
4-5 cashew nuts
4-5 almonds
Salt as per taste
1/2 tsp red chilli powder
3/4 tsp turmeric powder
2 tsp coriander powder
1/2 tbsp garam masala powder
1 tsp lemon juice
2 tbsp fresh coriander thinly chopped
2 tbsp mint leaves thinly chopped
 For making biryani you need:
1-1/2 cups basmati rice
1 onion thinly chopped/either with hands or in the chopper
2 small green chillies thinly chopped/either with hands or in the chopper
1 onion sliced for making brown onions
1/2 tbsp turmeric powder
A pinch of red-orange food color
2 tbsp fresh coriander leaves thinly chopped
2 tbsp mint leaves thinly chopped
4 tbsp oil
2 cups oil to deep fry the onions
2 eggs (optional)
Salt to taste
Whole garam masala: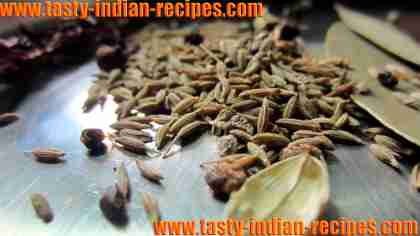 1 bay leaf
1 whole dried kashmiri red chilli
1/2 tbsp cumin seeds
1 green cardamom
1 black cardamom
1/2 inch cinnamon bits
2-3 cloves
2-3 black peppercorns
How to make Easy Chicken Biryani Recipe:
Clean the chicken breast and cut into medium size pieces. Keep aside.
Mix ginger, garlic, green chillies, sesame seeds, cashew nuts and almonds in the mixer grinder.
Grind to make a smooth paste.
In a big bowl combine the chicken, yogurt, above ground paste, salt, lemon juice, red chilli powder, turmeric powder, coriander powder, garam masala powder, coriander and mint chopped.
Mix very well and cover the bowl.
Refrigerate  the marinated chicken for 2-3 hours.
Boil the eggs, remove the outer layer and cut each egg into 2 pieces. Keep aside.
Wash the rice thoroughly in normal running water and boil them in 4 cups of water by adding little amount of salt.
Heat sufficient oil in a pan, deep fry the slices of onion until browned and remove on oil absorbent paper.
Heat 2 tbsp of oil in a non-stick pan and add whole garam masala.
Saute for few seconds and now add thinly chopped onion along with thinly chopped green chillies.
Saute until onion translucent.
Add the marinated chicken pieces and mix well.
Stir the chicken on low flame for 4-5 minutes.
When the chicken seems almost done, then spread a layer of basmati rice over the chicken.
Sprinkle little bit of salt and turmeric powder.
Also sprinkle half of the brown onions, food color, chopped coriander and mint leaves.
Mix very gently on low heat by adding remaining oil.
Mix very well to coat the chicken in rice.
Stir just for few more seconds on low flame.
Finally add boiled eggs and remaining brown onions. mix again.
Serve hot with  onion wedges, lemon wedges and mixed pickle.
Chef Tips:
Ghee can be used instead of oil.
For making easy chicken biryani recipe, all the ingredients are equally important to bring the flavor just like restaurant style biryani, hence not a single ingredient is to be missed.
Egg is an optional ingredient in this biryani. I use it because my family likes combine taste of chicken and boiled eggs.