Aloo Paratha is made with plain wheat flour, stuffed with the spicy mixture of mashed potatoes and then shallow fried on hot tawa. This paratha is topped with lots of butter to make the delicious Punjabi style paratha recipe. Basically paratha's are originated from Punjabi Cuisine, and I must say Aloo Paratha is one of the best breakfast recipe to melt anybody's mouth.
The stuffing of Aloo Paratha is very simple and very tasty and it can be made as per your taste and flavor.  In Punjab the parathas are made with lots of ghee and then served with dollops of white butter or makhan. White butter can be easily made at home.
One can get end number of parathas like cheese paratha, dal paratha, gobi paratha, paneer paratha, cabbage paratha and many more. Let us quickly show you how to make easy and tasty homemade Aloo Paratha.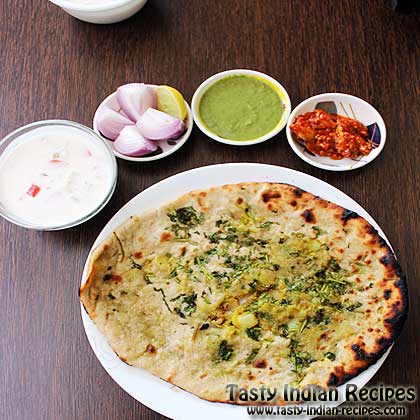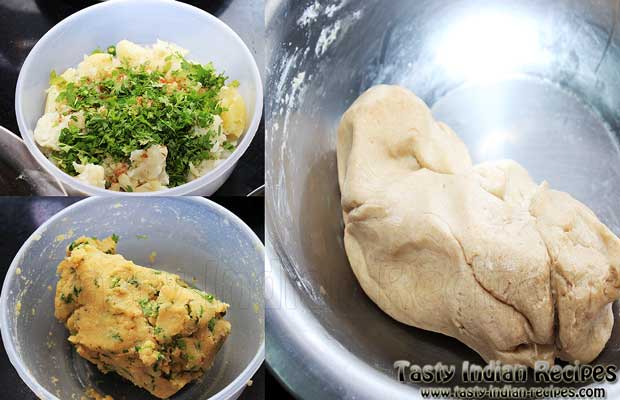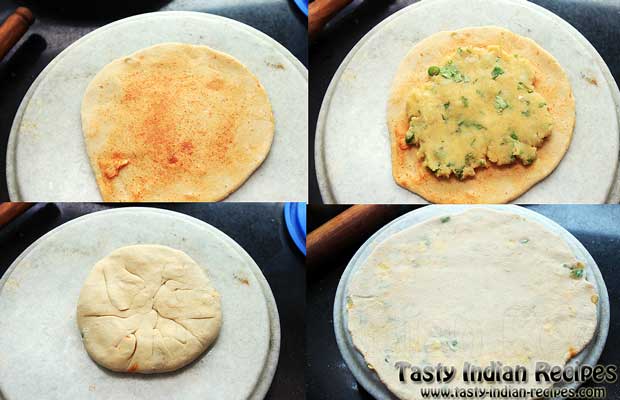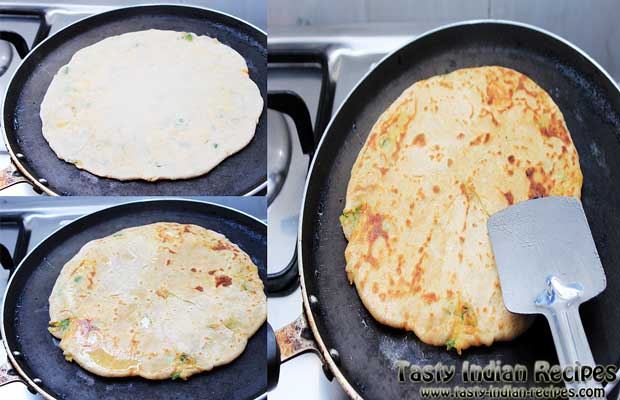 How to make Aloo Paratha:
Aloo Paratha Recipe is made with plain Wheat Flour, stuffed with the spicy mixture of mashed Potatoes and then shallow fried on hot Tawa.
Ingredients
1-1/2 cups whole what flour (gehun ka atta)
1 tablespoon ghee
4 potatoes boiled and peeled
4 green chillies chopped
1/2 teaspoon cumin powder
1/2 teaspoon garam masala powder
1/2 teaspoon turmeric powder
1/2 teaspoon red chilli powder
1/2 teaspoon dry mango powder
Fresh coriander leaves chopped
2 cups Oil for cooking
Whole wheat four for rolling
Salt to taste
Instructions
In a big bowl mix the flour, ghee and salt to taste. Gradually add water and knead the dough. Punch it with your hands and try to make a soft dough for making paratha's and keep it aside for 15-20 minutes.
In the meantime mash the boiled potatoes in a bowl and add salt, spices and chopped coriander leaves. Mix very well.
Now divide the dough and aloo mixture in equal portions (you will be able to make around 4 parathas from this quantity).
Take one portion of dough, place on a clean surface and roll into 2-1/2 inch diameter circle. Spread little oil and place about 2 tablespoon of potato mixture in the center. Seal the edges by pulling the corners and make a small dough or ball.
Roll very gently and make a disc of about 8 inches or about the size of a normal roti or chapati. Sprinkle little bit of dry wheat flour on both the sides at the time of rolling to avoid the stickiness of the dough.
In the same way roll out the balls or portions of the dough by filling the equal quantity of potato mixture.
Heat tawa or skillet and sprinkle little bit of oil. When tawa is hot enough then place this rolled out paratha.
After few seconds you will observe the paratha is puffing and brown spots have come out.Sprinkle little bit of oil and flip the paratha over. Lightly press the paratha with the help of spatula.
Drizzle the drops of oil and cook until it become golden brown from both the sides.
Paratha is ready to serve with pickle, curd or papad.
Notes
Always cook parathas on medium flame, so that it gets cooked well from inside and outside. Be generous in using Ghee or Oil to fry the parathas.
Tasty Indian Recipes
Chef Tips:
You can keep aloo paratha for up to 2 days on room temperature, provided it should be tightly wrapped in aluminum foil and then kept in the air tight container.
If you want you can spread some butter and sprinkle chaat masala over paratha, just before serving. It tastes amazing.
Some people refrigerate these paratha's for 3-4 days and at the time of eating reheat on tawa or in microwave.
Try to make small paratha's, which should be medium thick and should be stuffed well with the mixture of potatoes. In this way the potato stuffing will not come out.