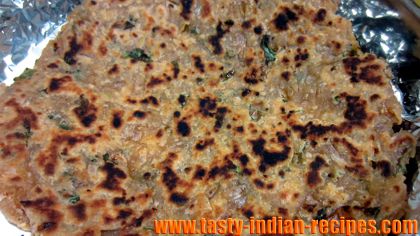 A filling of Indian Cottage Cheese (paneer) with all the spices in the whole wheat flat bread turns into a delicious and spicy Paneer Paratha. It is genuinely a mouth watering recipe. Paneer Parathas are perfect morning breakfast to keep you active for the whole day.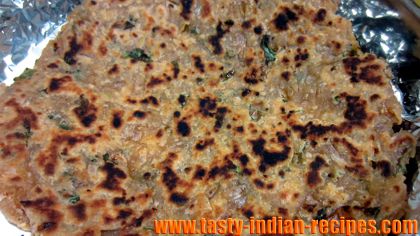 Preparation time: 30 minutes
Cooking time: 15 minutes
Servings: 6-8 paratha's
Ingredients:
250 gms paneer finely grated
2 potatoes boiled
2 cups whole wheat flour
1 tsp ginger paste
1 tsp garlic paste
4 green chillies finely chopped
4-5 curry leaves chopped
1/2 tsp mustard seeds
1 tsp red chilli powder
1/2 tsp turmeric powder
1/2 tsp garam masala powder
1/2 tsp jeera powder
1 small bowl of fresh butter
1 tsp chaat masala
Salt to taste
1 cup cooking oil
Fresh cilantro chopped
How to make Paneer Paratha:
In a mixing bowl mash the boiled potatoes.
Add grated paneer, salt, red chilli powder, turmeric powder and garam masala powder.
In a saucepan heat 1 tsp of oil, add mustard seeds, curry leaves and allow to crackle.
Add ginger garlic paste, chopped green chillies, saute well and mix with the potatoes and paneer.
Add jeera powder, chopped cilantro and combine all the ingredients to make a fine stuffing.
Check the seasoning and salt. You can add more green chillies to make it spicy.
In a big bowl combine the wheat flour, salt and 2 tsp oil.
Sprinkle water at a time till the dough binds together.
Knead the dough until it forms a soft, elastic ball.
Adjust the flour if dough looks too sticky.
Knead the dough till it becomes soft, like you would do normally to make any paratha.
Cover the dough with a damp kitchen napkin and leave it to rest for 15-20 minutes.
Divide the dough into 8 equal parts.
Take one piece of the dough, dip in the wheat flour and roll on a clean surface.
Roll out the dough into a round shape with the help of rolling pin.
Sprinkle the flour as and when needed.
When the paratha is thin and even, you may stop rolling.
Place the paneer stuffing in the center of the paratha.
Seal the edges completely so that stuffing does not come out.
Sprinkle some flour and roll it very slowly with rolling pin.
Cook it on pre-heated tawa.
Turn it and put some oil, and shallow fry.
Turn it and pour little bit of oil on other side as well.
Place the paratha in a plate and spread some butter.
Sprinkle some chaat masala over all on the top of the butter.
Tasty paneer paratha is ready to serve with yogurt or pickle.
Chef's Tips:
Roll out the paratha with a gentle touch to get a proper round shape.
You may use your hands instead of rolling pin to give a round shape to your parathas.
Add enough water to make a soft dough because the hard dough will make your paratha stiff and raw.
Cover and rest the paratha dough for at least 15 minutes before rolling, it will help you to make soft parathas.