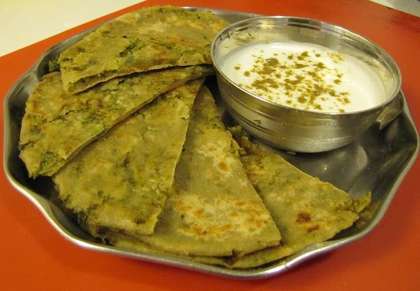 Cabbage Paratha is a unique type of paratha, but very tasty paratha recipe, Indian bread is stuffed with lots of grated cabbage and cabbage can be used raw or cooked, in both ways it is very tasty and healthy in eating.
Preparation time: 10 minutes
Cooking time: 20 minutes
Servings: 4
Ingredients:
For making dough of parathas you will need:
2 cups wheat flour
1/2 tsp salt
A pinch of ajwain (carom seeds)
1 tbsp oil
Water to knead the dough
For the stuffing you will need:
2 cups fresh cabbage finely chopped
1/2 tsp mustard seeds
2-3 green chillies finely chopped
1 inch ginger minced
1/2 tsp red chilli powder
1/2 tsp turmeric powder
Salt to taste
Oil for cooking
How to make Stuffed Cabbage Paratha:
Combine all the ingredients of making dough.
Mix very well and knead by slowly adding water into it.
Knead until dough becomes smooth.
Cover the dough with damp muslin cloth and keep aside, till the preparation of stuffing is done.
For the stuffing heat 2 tbsp oil in a pan and add chopped cabbage.
Saute continue and add mustard seeds, green chillies and minced ginger.
Mix and adjust with the salt and spices.
Do not cover the pan and cook till the water evaporates.
Remove the cabbage from the pan and set aside to cool.
Now Divide the prepared dough into small equal size balls.
Take one portion/ball and roll with a rolling-pin.
Make a small roti and place a tbsp of prepared cabbage on the center.
Cover from all the side, dust some flour and roll again to make a proper paratha.
Make sure the stuffing should not come out, for that seal the sides with some water on the edges so the stuffing does not come out.
Heat a tawa and drizzle few drops of oil.
Place the stuffed paratha gently on the tawa and roast it from both sides by greasing it with oil or ghee.
Serve hot with curd and pickle of your choice.