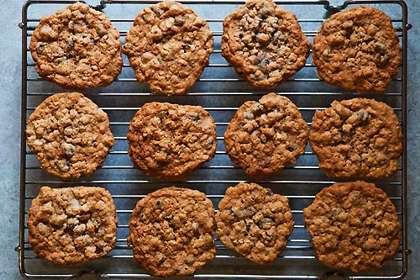 Oat Cookie Delight is a delicious cookie recipe made with healthy oats, grated coconut and butter. Learn how to make easy homemade oat cookie delight that can be stored for few days at room temperature.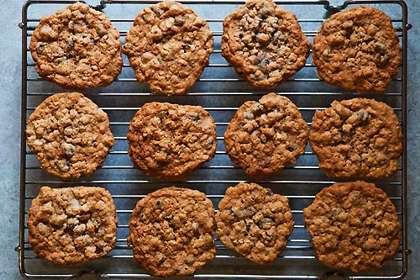 Preparation time: 8 minutes
Baking time: 8 minutes
Servings: 4-6
Ingredients:
250 gm instant oats (ready-made)
4 tbsp cocoa powder
1/2 tsp green cardamom powder
1-1/2 cups powdered sugar
1 cup grated coconut
4 tbsp unsalted butter/margarine
A pinch of salt
1 tsp baking powder
1/2 cup condensed milk
1 foil paper
How to make Oat Cookie Delight:
Boil the milk in a big vessel.
While boiling add sugar, salt, baking powder, cocoa powder and butter.
Stir with the help of spatula and boil for few more minutes.
Switch off the gas and remove the vessel from the flame.
Add oats, grated coconut and cardamom powder.
Mix thoroughly.
Preheat the oven to 350 F degrees for 5 minutes and Grease the foil paper with little bit of butter.
Spread the prepared cookie mixture over the greased paper.
Use the spoon to pour the mixture evenly on the paper.
Bake in preheated oven for about 7-8 minutes until turns crispy and brown.