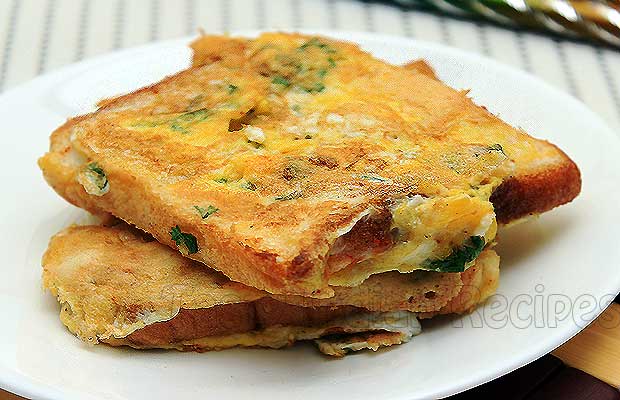 Egg Toast is a common breakfast in every household, but many people do ask me for the proper way of making it. Therefore, here is a quick and easy way to make delicious egg toast recipe.
Prep time:
Cook time:
Total time:
Yield: 2 servings
Ingredients:
6 eggs
4 slices of Bread / brown or white
3 green chillies finely chopped
1 small onion finely chopped (optional)
1 tomato finely chopped (optional)
2 tbsp milk
Fresh coriander leaves finely chopped
A pinch of pepper powder
Salt to taste
Oil for cooking
How to make Egg Toast :
Whisk the eggs one by one in a bowl and stir in chopped onion, tomato, green chillies, milk, salt, pepper and coriander.
Beat very well until eggs are foamed.
Heat a griddle or frying pan and spread some oil.
Dip each bread slice in the prepared mixture and stir fry over low flame.
Fry from both sides until done.
Repeat the same with other bread slices as well.
Serve egg toast hot with tomato ketchup.