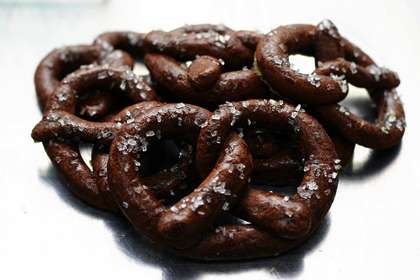 Chocolate Pretzels are the unique chocolaty flavored pretzel recipe made with the flour, butter and icing sugar. It is very important to bake them at proper temperature as they are more enjoyable when made neither too soft nor too hard.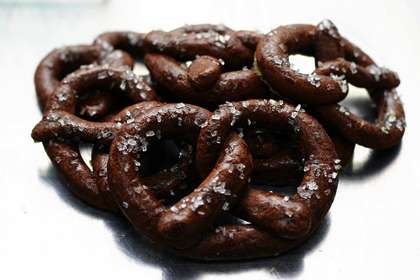 Preparation time: 5 minutes
Baking time: 20 minutes
Servings: 6
Ingredients:
200 gm cooking chocolate
1 cup icing sugar
2 eggs
2 cups butter/margarine
100 gm all-purpose flour
A pinch of salt
1/2 pinch of baking powder
50 gm cocoa
How to make Chocolate Pretzels:
Combine the butter, salt, baking powder and icing sugar.
Mix thoroughly to make a soft mixture.
Beat the eggs in a separate bowl first and then mix into the batter.
Sift the prepared mixture in the flour and mix the cocoa very well into it.
Make a stiff dough and keep aside for 30-40 minutes.
Preheat the oven to 325 F degrees and grease the baking tray with butter/margarine.
Divide the prepared dough into small equal size balls and roll out each into a shape of pretzels.
Place them on the greasy tray and bake for about 20 minutes.
Melt the cooking chocolate in 2 cups of water over low flame.
Drop the prepared pretzels one by one into the hot chocolate and immediately take them out.
Dry each chocolate pretzel on the grease proof paper for few minutes and serve immediately.