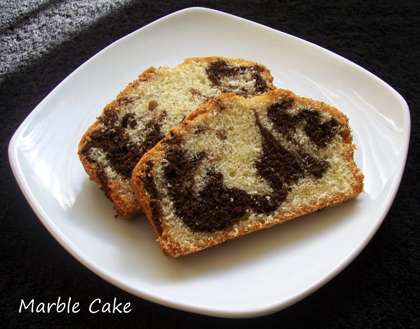 Here is a quick cake recipe, made with flour, butter, vanilla and cocoa powder named as a 'Marble Cake'. You can make this quickest, easiest and tastiest cake delight on daily basis to impress your kids.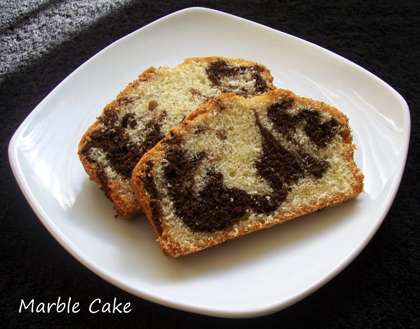 Preparation time: 6-8 minutes
Baking time: 25-27 minutes
Servings: 8-10
Ingredients:
2 cups all-purpose flour (maida)
1 tbsp baking powder
1 cup butter / margarine
1-1/2 cup sugar
2 eggs
1 cup milk
70 gm cocoa powder
2 tsp vanilla extract
1/2 tsp salt
How to make marble cake:
Sift the flour, salt and baking powder in a big bowl.
Cream together the butter, vanilla and sugar.
Beat the eggs and add into it.
Beat the mixture till turns smooth and sugar gets blended well.
Now add the sifted flour and milk alternately in the mixture.
Mix well till the batter is smooth.
Divide the prepared batter into 2 parts.
In one portion add cocoa powder very well.
Grease and line one 8-9 inch baking tin.
Pour 1 layer in the tin and then the second and continue this process alternatively.
Bake in preheated oven at 200C for 15-17 minutes and then reduce the temperature and bake for another 10 minutes or until the cake gets golden on top.
Cool the cake at a top wire rack of the oven for few minutes and then invert on a dish.