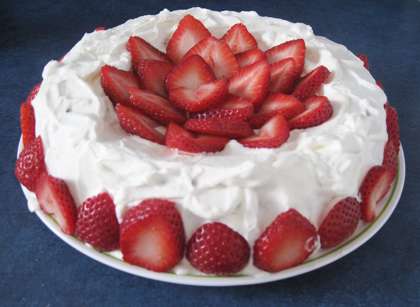 Strawberry Cake is a classic cake delight, made with lots of fresh strawberries and all other common ingredients of cake mix. Learn how to make this yummy homemade strawberry cake recipe.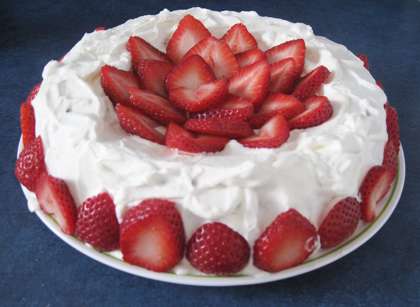 Preparation time: 15 minutes
Cooking time: 40-45 minutes
Servings: 4-6
Ingredients:
2 cups all-purpose flour (maida)
1 cup fresh strawberries
2 eggs
1 tsp baking powder
1 tsp baking soda
1/2 tsp salt
1 cup unsalted butter
4 tbsp icing sugar
1-1/2 tsp vanilla extract
1 cup vanilla pudding
1 cup condensed milk
2 tbsp fresh whipping cream
1-1/2 cups sugar
How to make Strawberry Cake:
Thaw the fresh strawberries with half quantity of icing sugar.
Combine the butter, cream and sugar until smooth and fluffy.
Beat the eggs in a separate bowl and mix with the butter mixture.
Stir in the vanilla pudding and vanilla extract.
Now add thawed strawberries.
Sift the flour, baking soda, baking powder and salt in a big bowl.
Add the prepared strawberries mixture and stir in the remaining cake ingredients.
Constantly mix until the batter reaches to the cake consistency and gets a little smooth.
Preheat the oven to 400 degrees and grease a 9″ baking pan with some butter.
Pour the prepared cake batter and bake in the oven for 40 minutes, until a toothpick or a knife inserted comes out clean.
Top with your favorite frosting or garnish this delicious cake with some chopped strawberries.
Serve yummy.
If you want, you can dust the remaining icing sugar on top of the cake just after baking.