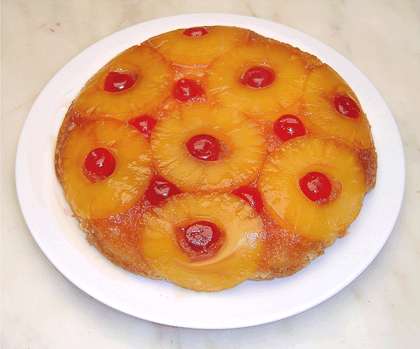 Pineapple Upside Down Cake is a mouth-watering pineapple cake, simply amazed with lots of strawberries, cinnamon and fresh cream.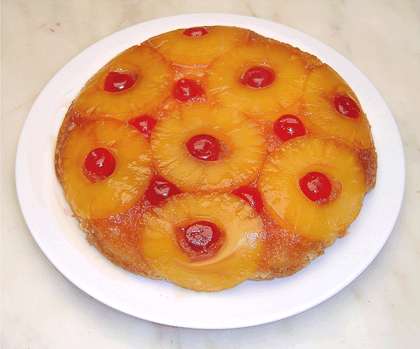 Preparation time: 15 minutes
Baking time: 40 minutes
Servings: 6-8
Ingredients:
500 gm pineapple
20 fresh strawberries
2 cups all-purpose flour (maida)
1 cup and 4 tbsp sugar
2 tbsp butter
2 cups whipping cream
1/2 tsp salt
1 cup refined oil
2 tsp baking powder
1 tsp baking soda
3 eggs
1/2 tsp Cinnamon Powder
2 tbsp Strawberry Jam
How to make Pineapple Upside Down Cake:
Beat the eggs in a bowl until fluffy and keep aside.
Chop the strawberries into small pieces.
Heat 1-1/2 cups of water and mix the chopped strawberries.
Add 4 tbsp of sugar, cinnamon and salt.
Stir in till the sugar dissolves and strawberries turns soft.
Cook on medium high flame and add strawberry jam.
Stir for 2 more minutes and remove from the flame.
Add butter and whipping cream and mix well.
Now mix the sugar into beaten eggs and blend with an electric hand blender until smooth and sugar melts completely in the eggs.
Sift the flour, baking soda and baking powder.
Add the egg mixture and oil, mix till no lumps form.
For making upside down cake, grease a circular cake tin with some butter.
Now carefully, lay out the pineapple pieces on the bottom of the tin.
Pour the prepared batter gently over the pieces of pineapple and bake in preheated oven at 350 degrees for 35-40 minutes.
Insert a toothpick to check the softness of the cake.
If the toothpick comes clean, that means the cake is ready.
Allow the cake to cool in the oven for 15 minutes.
When the cake gets cool , transfer the cake on a serving dish with the pineapple sides on the top.
Finally garnish with some strawberry sauce and chopped strawberries.