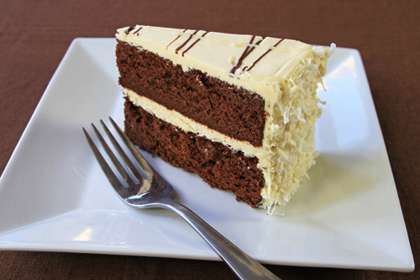 No one can resist the yummy Chocolate Coconut Cake, here is the easiest way to make this irresistible coconut cake dish, that is simply made with coconut, flour, cocoa, margarine and condensed milk.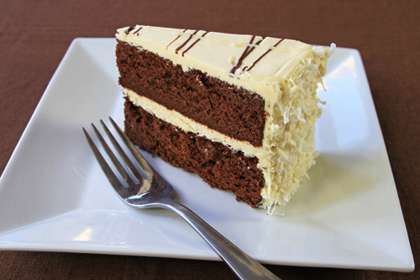 Preparation time: 15 minutes
Cooking time: 45 minutes
Servings: 8-10
Ingredients:
2-1/2 cups desiccated coconut
1-1/2 cups plain flour
2 tsp baking powder
2 cups sugar
4 cups condensed milk
3 eggs
2 cups butter / margarine
A pinch of salt
1 level tsp cocoa
How to make Chocolate Coconut Cake:
Soak the coconut in the milk at least for 40 minutes.
Cream fat and sugar and then beat the eggs in it.
Stir in the coconut-milk mixture very well.
Sieve the flour and baking powder and stir in the prepared mixture and other ingredients.
Mix continue until the batter becomes soft and fluffy.
You can use an electric hand blender for the proper mixing.
Preheat the oven at 400 F degrees and grease the lined tin 10 inch by 10 inch.
Pour the prepared cake batter into the greased baking tin.
Bake in a moderate oven for 45 minutes.
Allow the cake to cool completely, cut the cake in desired pieces and then decorate it with your favorite topping.