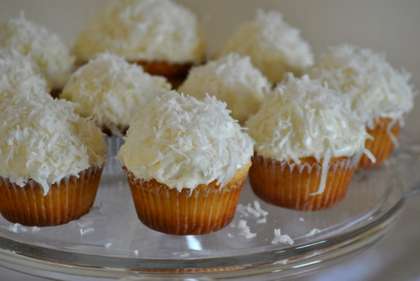 Coconut Cupcakes are the yummy and cute cupcakes, made with lots of fresh coconut, dry fruits and vanilla essence. These cupcakes are the perfect delight for the kids.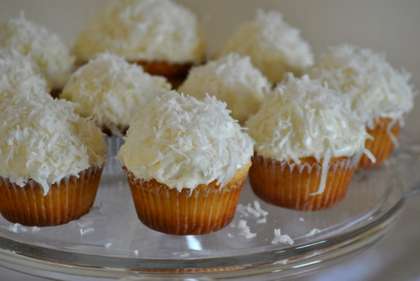 Preparation time: 15 minutes
Baking time: 20-30 minutes
Servings: 15
Ingredients:
4 cups all-purpose flour (maida)

1 tbsp baking powder

1 tsp baking soda

6 cups grated coconut

4 eggs

2-1/2 cups butter milk

2 cups unsalted butter / margarine

2 tsp almond essence

3 tsp vanilla essence

1 tsp salt
For Icing of cupcakes you will require:
3-1/2 cups sour Cream Cheese (Hung Curd)
2 tsp Almond Essence
3 tsp Vanilla Essence
1 cup unsalted Butter
200 gm Icing Sugar, sifted
How to make Coconut Cupcakes:
Sift the flour, baking powder, baking soda and salt together.

Transfer the mixture into a big bowl.

Beat the eggs and add into the flour.

Beat the cream, sugar and butter by mixing the essences.

Preheat the oven at 400 F degrees and grease the cupcake tins with some butter.

Now add the flour alternatively with the buttermilk.

Mix half of the grated coconut.

Fill the greased cupcakes with the mixture.

Bake in preheated oven for about 20 minutes until they turns golden in color.

For icing beat the cream cheese, butter, sugar and the essence till smooth and creamy.

Place a layer of the prepared icing on the baked cupcakes.

Finally sprinkle some grated coconut on these yummy cupcakes.