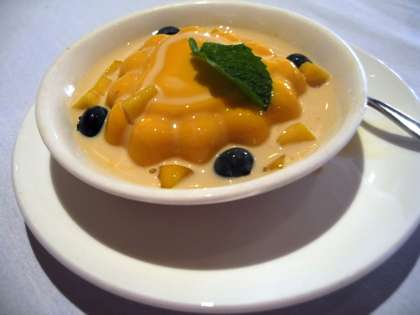 Mango pudding is the delicious and soft pudding indulgent with the rich flavor of mangoes, milk, gelatin and lots of smooth textures. It is one of the most refreshing dessert dish which is famous as the true finishing touch to the Chinese meal.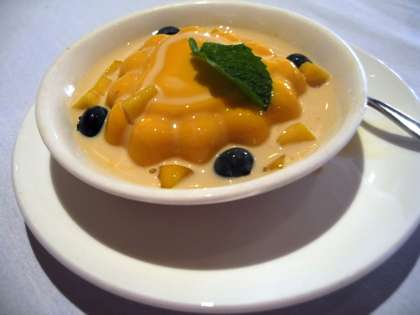 Preparation time: 10 minutes
Cooking time: 20-25 minutes
Servings: 4
Ingredients:
2 mangoes
2 cups milk
1 cup vanilla essence
1-1/2 cup sugar
1/4 tsp vanilla extract
Few mixed nuts chopped
2 packs gelatin
3 cups water
How to make Mango Pudding:
Combine the gelatin, sugar and milk.
Keep on heat until few boils comes out and gelatin becomes soft.
Also check whether sugar is dissolved or not.
Allow this mixture to cool completely.
Peel the mangoes and chop into small pieces.
Throw out the big seed.
In a blender container add the chopped mangoes along with the mixture of gelatin.
Blend well and make a smooth drink.
Heat the vessel and pour this blended mixture.
Add vanilla essence and vanilla extract.
Stir by gradually adding water.
Cook this mixture until thickens.
Allow to cool completely and then refrigerate for couple of hours.
While serving spread few nuts on the top and serve chilled.
Chef Tips:
At the time of serving you can garnish this pudding with your favorite nuts.
You may garnish it with the slices of mango to impress your guests.