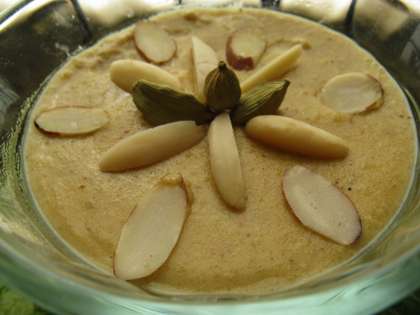 Almond Pudding is the yummy and creamy dessert recipe made with the tasty almonds, milk, cornstarch and the flavorful ingredients. This is a great pudding to serve the kids when they want a treat for some reason.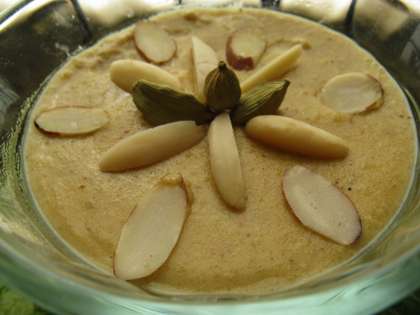 Preparation time: 10 minutes
Cooking time: 30 minutes
Servings: 4
Ingredients:
2 cups almonds blanched
2 tsp cornflour
1 egg
300 ml milk
2 tbsp thick fresh cream
1 cup sugar
A pinch of salt
Few raisins
Few pistachios chopped
How to make Almond Pudding:
Dissolve the cornflour in 2 tbsp of milk and keep aside.
Beat the egg in a bowl and keep aside.
Combine 1 cup of milk, almonds and fresh cream in the blender.
Blend well to make a smooth paste.
Heat the vessel and pour the blended mixture.
Also add remaining milk, salt and sugar.
Mix well and add cornflour.
Stir continuously by adding beaten egg.
Now simmer the flame.
Allow this mixture to cook until few boils.
After few minutes the mixture will be thicken.
Stir and pour into individual serving bowls.
Top this pudding with the raisins and chopped pistachio.
Chef Tips:
You can serve this pudding chilled as well, for that you just need to cool it completely and then refrigerate for few hours.
You can use roasted almonds for making this delicious pudding recipe.