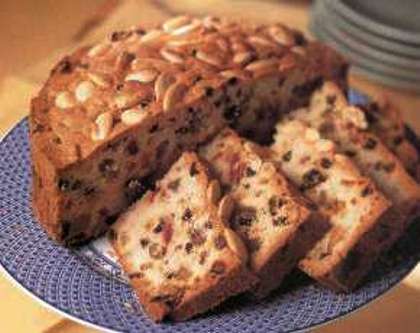 Name of the cake is Dundee Cake, It's different because it is the only cake that contains lots of dry fruits and creamy and flavorful ingredients that makes this cake so soft and moist. It  is a great Holiday recipe, simple made with glace cherries, raisins, almonds and currants. Top it with some cream cheese and your favorite chocolate toppings to make it more yummy.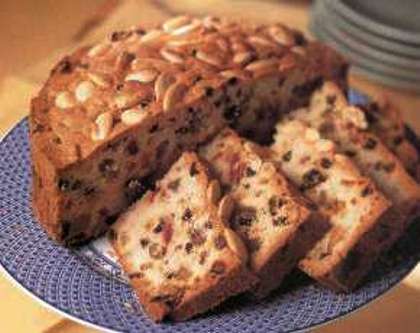 Preparation time: 12 minutes
Baking time: Appx. one hour
Servings: 15 -20 yields
Ingredients:
2-1/2 cups Refined flour (maida)
1 tbsp baking powder
1-1/2 cups butter
2 cups sugar
6 eggs
50 gm mixed peel chopped
75 gm chopped glace cherries
1 cup currants
4 tbsp blanched almonds
1/2 cup raisins
1 cup golden raisins
1/2 cup ground almonds
2 tsp cherry
Grated rind of one lemon
How to make Dundee Cake:
Take a big bowl and combine the golden raisins, peel, ground almonds, currants, raisins and cherries. Set them aside.
Beat the eggs in another bowl and keep aside.
Beat the butter till turns soft then add castor sugar along with lemon rind and beat till the mixture looks light and fluffy.
Gradually add the beaten egg mixture and beat very well.
Sift the flour and baking powder in another bowl and add to the creamed mixture.
Also add cherry and remaining ingredients.
Preheat the oven at 350F and grease a 16cm cake tin with some butter.
Pour the prepared cake mixture into the greased tin, try to create a hollow in the center and cover that center with ground almonds.
Bake in preheated oven for 1 hour or until a toothpick or knife pricked into the center of the cake comes out clean.
When the cake is ready, allow to cool it at a wire rack for 10-12 minutes.