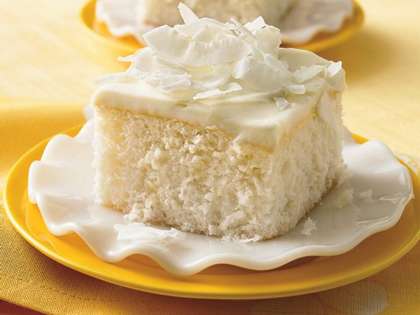 Coconut Cake is simple in making and creamy and yummy for serving, this cake can be simply made with coconut, sugar, butter and eggs.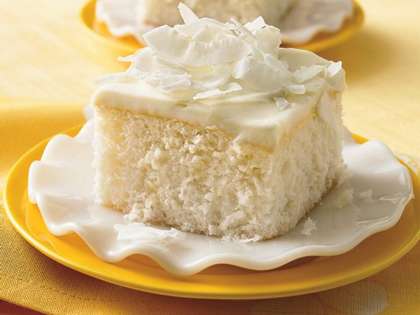 Preparation time: 10 minutes
Baking time: 1 hour
Servings: 12-15 yields
Ingredients:
3-1/2 cups plain flour (maida)
2 tbsp baking powder
2 cups desiccated coconut
1-1/2 cups butter / margarine
2 cups milk
1 cup warm water
1-1/2 cups castor sugar
4 eggs
A pinch of salt
How to make Coconut Cake:
Beat the eggs in a bowl and keep aside.
Cream the butter and sugar by slowly adding egg mixture.
Sift the flour, baking powder and salt very well.
Thoroughly mix the sieved flour mixture, coconut and other ingredients in egg mixture.
Grease the cake tin with some butter and pour the prepared cake batter into it.
Bake in moderate oven for 1 hour.
Insert a toothpick to check whether cake is ready or not.
It the toothpick inserted in center of the cake comes out clean, then means the cake is ready.
Allow to cool at a wire rack for 10-12 minutes.