Capsicum Pizza Recipe is a Tri-Color, nice and crispy pizza recipe . Here pizza sauce is applied on ready made pizza base, topped with red, yellow and green bell pepper along with lots of shredded cheese, baked in oven and turned out in an amazing homemade Indian pizza.  I made my capsicum pizza in a very simple way and no jazzy or fancy ingredients are used.
Honestly, I was so hungry, when I made this pizza at home. I could not plan it properly and did not have patience to wait and bake the pizza base, so I simply used ready made crusts, that really comes handy for such hurried situations.
This Capsicum Pizza Recipe is slightly twisted & given some of my own punches. Pizza is the famous Italian oven baked round flat-bread, that has been my all time favorite since childhood days. There are so many varieties of pizzas, toppings & crusts available now a days, but today I opted to share my favorite Tri-Colored Bell Pepper Pizza recipe with all of you.
My pizza journey started during the school days when I used to force my mom to break the routine dinner of dal-chawal (rice with lentils curry) roti sabji (vegetable curry) and instead she would make different types of cheese pizza for me. I remember very well, she used to cook capsicum in simple masala as a topping and without oven, she would simply cook the crust on a flat griddle (Tava) till nice & crispy. It used to be really a yummy one.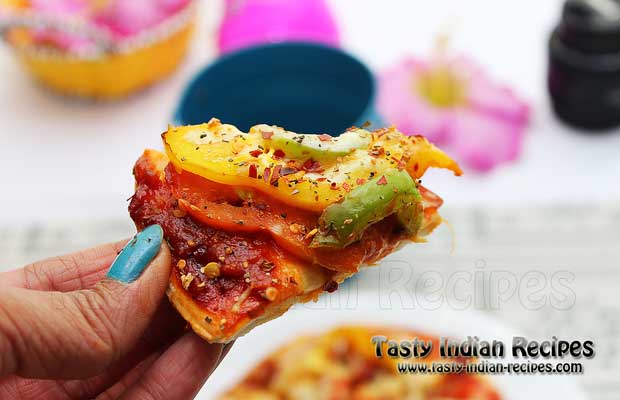 Now a days, oven are easily available and we can bake our own breads and crusts in it. Today I thought to share this recipe with you and fortunately I got all three colors of bell peppers as well. That's it. Nothing much needed for making this simple and elegant pizza. So here comes Capsicum Pizza Recipe.
How to make Capsicum Pizza Recipe:
Capsicum Pizza Recipe is a thin crust Homemade Pizza Recipe, topped with Tri-Colored Capsicum (bell peppers) and Shredded Cheese and then baked in oven.
Ingredients
2 pizza bases
2 tbsp pizza sauce
1/2 cup green capsicum, cut into rings
1/2 cup red capsicum, cut into rings
1/2 yellow capsicum, cut into rings
1 cup mozzarella cheese, shredded
2 green chillies, finely chopped (optional)
Red chilli flakes for seasoning
Mixed herbs for seasoning
Instructions
Place the pizza base on a flat clean surface. Apply 1 tbsp of pizza sauce on each pizza base. Arrange few pieces of tri-color rings of bell pepper.
Place few chopped green chillies and spread lots of shredded cheese all over
Preheat the oven at 350 degrees F and place the prepared pizza. Bake for about 6 minutes, till the crust is browned and cheese melts.
Cut into desired pieces. Sprinkle some red chilli flakes and mixed herbs.
Notes
If you like your pizza with more amount of topping, then you may add onion rings and tomato slices in it.
Tasty Indian Recipes
Chef Tips:
You can use thinly sliced pieces of bell pepper.
Further Reading:
Check out how to make Pizza Base and Pizza Sauce at home.
If you are looking for more Pizza Recipes, then do check Bread Pizza and Paneer Cheese Pizza.