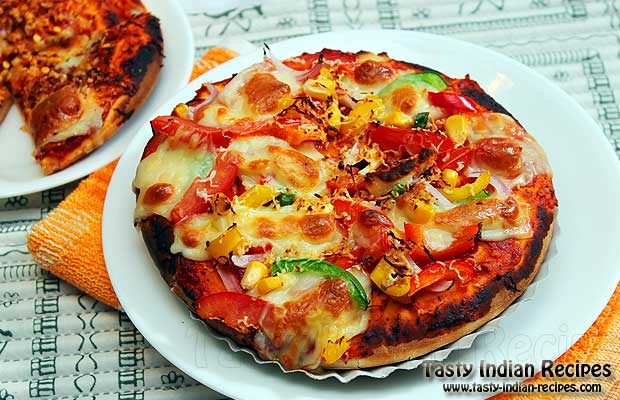 Paneer Cheese Pizza is a great buttery and cheesy snack recipe. Here Indian cottage cheese melts with lots of butter, cream and cheese. This recipe is kid's most favorite evening snack dish. Learn to make quick, easy and delicious paneer cheese pizza recipe and serve in front of your hubby and kids and see the great smile on their faces.
Preparation time: 5 minutes
Cooking time : 5-6 minutes
Servings: 4 pizza's
Ingredients:
1 cup malai paneer (cottage cheese)
2 cups shredded cheese
1 tablespoon green bell pepper, sliced
1/2 tablespoon red bell pepper, sliced
1/2 tablespoon sweet corns
1 cup fresh cream
2 tbsp butter
4 tsp tomato ketchup
2 tbsp pizza sauce
2 green chillies thinly chopped
2 tbsp mixed oregano
Salt to taste
How to make Paneer Cheese Pizza:
Preheat the oven to 250F degrees for about 5 minutes.
Meanwhile place 4 pizza bases on clean flat surface.
Spread 1 tsp of tomato ketchup and 1/2 tbsp of pizza sauce on each pizza base.
Divide the shredded cheese, cream and butter in 4 equal parts and spread on each pizza base.
Now sprinkle chopped green chillies along with vegetables, also shred the paneer and place in equal portions on each pizza base.
Sprinkle 1/2 tsp mixed oregano on each prepared base and sprinkle bit of salt.
Arrange the pizza bases on the baking tray at equal distances.
Bake in the oven for about 4-5 minutes or until cheese starts melting.
Keep watching time to time.
Remove from the oven, cut into desired pieces and serve hot.
Chef Tips:
For making this pizza you may add more cheese and butter, as per your kids liking.
Also you can use vegetables, but try avoiding them, because it is a cheesy paneer pizza and the maximum taste of cheese, cottage cheese and butter should be involved.