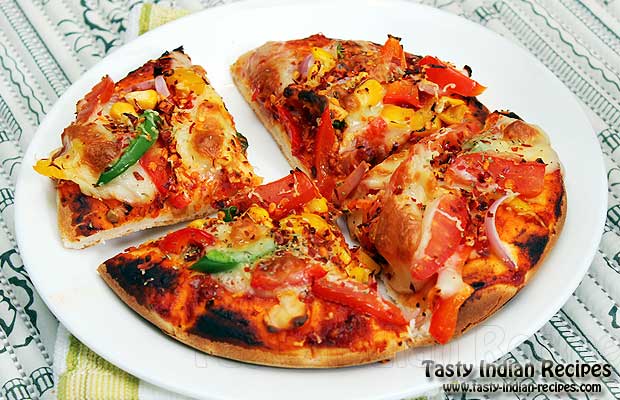 Home made Pizza is the self made pizza recipe, that can be easily made at home. Here are the easy steps for making the best pizza base and the topping along with the crust and seasoning. Learn to make homemade pizza by following these easy steps.
Preparation time: 20 minutes
Cooking time: 1-1/2 hours
Servings: 2 pizza's
Ingredients:
For making Pizza base you need:
4 cups maida (all purpose flour)
2-1/2 cups warm water
2-1/2 tsp active dry yeast
1 tsp sugar
2-2/1 tsp salt
2 tsp vegetable oil
For making Pizza topping you need:
2 tbsp pizza sauce
1 tsp tomato sauce
2 cups mozzarella cheese shredded
1 onion thinly sliced
1 tomatoes thinly sliced
1 cup red bell pepper rounds
1 capsicum thinly sliced
Few sweet corns
2 green chillies thinly chopped
A pinch of salt
For seasoning:
2 tsp red chilli flakes
2 tsp mixed pizza herbs
How to make Homemade Pizza:
Mix the yeast in warm water and leave to rest for 5-6 minutes until the yeast gets dissolved.
Combine the flour, salt, sugar and oil. Mix well.
Mix the dissolved yeast along with the water.
Knead the dough with the help of water until it becomes soft and smooth.
You may use a bit of flour, if the dough seems too wet.
Cover the dough with the damp muslin or cheese cloth and leave to sit at warm place until it doubles in the volume.
Preheat the oven to 350F degrees for 20 minutes.
Take out the dough from the bowl, punch it down and divide into two parts.
Place the parts of balls of the dough in individual bowls, cover and leave to sit for 10 minutes.
After that take one ball of the dough, flatten on the surface.
It would be much better if you will start flattening from the center and working outwards.
Use fingertips and make a 1/2 inch thick circle.
Let the dough relax for 2 more minutes and again start stretching.
Finally stretch until you get the desired size, probably 8-10 inches.
Follow the same procedure with second part of the dough as well.
Your pizza base is ready now.
Spread a tsp of pizza sauce on each base, along with 1/2 tsp of tomato sauce.
Sprinkle little bit of cheese, arrange the vegetables and green chillies, sprinkle little bit of salt all over and again top with lots of cheese.
Bake in the oven for 4 minutes until the crust is browned and the cheese starts melting.
Check whether veggies are cooked properly or not.
Take out from the oven, cut into desired pieces, sprinkle red chilli flakes and mixed herbs.
Again keep in the oven for 2 more minutes.
At this moment keep your oven on toast mode.
After 2 minutes, take out the yummy pizza from the oven and serve immediately.
Chef Tips: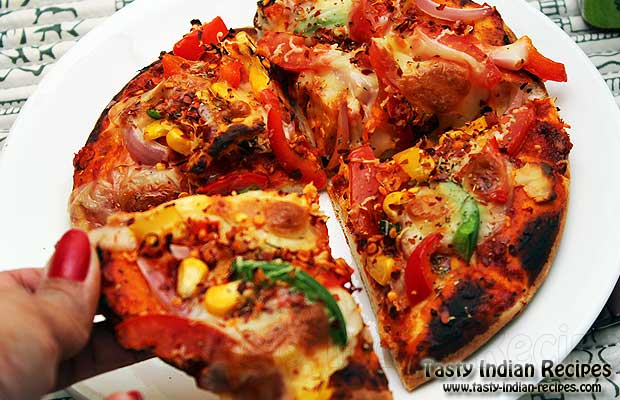 You can garnish this pizza with the grated or shredded cheese at the time of serving.
It is important to keep the pizza dough at warm place, but if you do not have warm place in your house then do one thing, preheat the oven to 250 degrees for 5-7 minutes. After that turn it off and leave to cool, its because we need warm place and not a hot place, now you may keep the dough in this warmed oven to rise.
You can freeze this pizza dough in an air tight container for 15 days for using later.