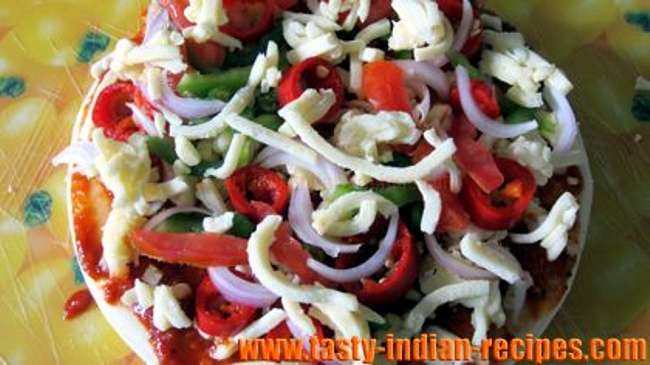 Vegetable Cheese Pizza is an awesome snack recipe, here pizza base is topped with lots of vegetables and cheese and then cooked in oven in just few minutes. This pizza is the best option of snack for vegetarian people. It has a very special place in various functions and parties. Kids love this pizza. It is my routine recipe as I make this 3-4 times in a week.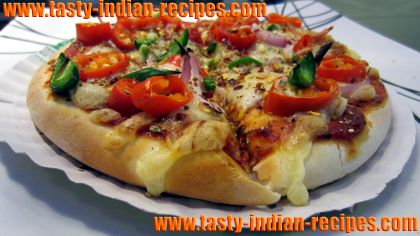 Preparation time: 10 minutes
Cooking time: 6 minutes
Servings: 4 small size pizza's
Ingredients:
4 small size pizza base
1 tsp red chilli paste
4 tsp pizza sauce
1 packet of shredded cheese (store bought)
1 small onion slices
1 capsicum cut into slices
2 tomatoes cut into slices
4 tsp red bell pepper cut into rounds (dipped in vinegar)
4 green chillies finely chopped
For Seasoning:
2 tsp Red chilli flakes
2 tsp mixed herbs
How to make Vegetable Cheese Pizza:
Sprinkle little bit of salt on all the veggies except the red bell pepper and green chillies.
Divide the vegetables into 4 equal parts.
Preheat the oven to 250 degrees for 5 minutes.
Take a pizza base.
Spread 1/4 tsp of red chilli paste along with the spoonful of pizza sauce.
Spread the shredded cheese.
Arrange the veggies on top of the cheese.
Again spread the shredded cheese all over on the veggies.
Keep the pizza's in the oven for 3 minutes on the baking mode and then for 1-1/2 minute on toast mode.
Take out the cooked pizza from the oven, cut into 4-6 pieces and again keep in the oven for 30-40 seconds.
Sprinkle the seasoning and serve hot.
Chef Tips:
Do not keep the cooked pizza for more than 5 minutes else it will not taste good.
Every oven has different operating systems, modes and timers so adjust the timing of your oven and cook the vegetables well but do not let pizza base to cook hard because the soft and crispy pizza base is always very tasty and eatable.
Spread more cheese to make a delicious cheesy vegetable pizza.
Cut the bell peppers in round shape and keep on vinegar. The more you keep them in the vinegar the better they taste in the long run. In this way you can keep them for 2-3 months.
Place the cooked pizza on paper plate, so that it will not be sticky.
You can use sweet corns, baby corns, paneer, mushroom etc as a topping on this pizza.