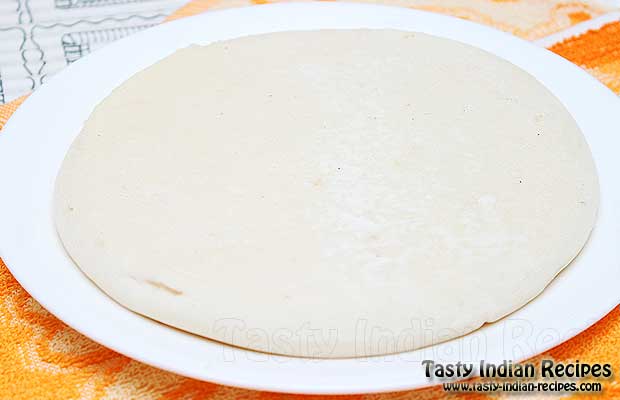 Basic Pizza base is a prime requirement or base for making any delicious pizza recipe. Although ready-made pizza base is easily available in the market, but when it is possible to make simply best pizza base at home, then why to buy from the market?
Preparation time: Appx. 1 hour 30 minutes
Cooking time: 12 minutes
Servings: 4 pizza bases
Ingredients:
4 cups / 500g all-purpose flour (maida)
2 tsp sugar
25 g active dry yeast
1 cup warm water
2 tbsp oil (preferably olive oil)
Salt to taste

Pizza Base
How to make Pizza Base:
Mix the yeast in warm water and keep aside for 10-15 minutes. Yeast mixture will get doubled now.

Combine maida, salt, sugar and oil. Knead with your hands. Mix in yeast mixture very well in it.

Take out the dough mixture out on a clean kitchen surface, where you can knead it with a pressure. Stretch and knead continue for 4-5 minutes by gradually adding warm water, till dough turns soft. (Note: While kneading the dough, if you require water, then use only warm water).

Cover the dough with damp muslin cloth and leave to rest for about an hour. First cover it with a damp cloth and then put a tight lid over it. Dough will be almost doubled after keeping for 1 hour.

Divide the dough in 4 equal portions or balls, just like shown in image.
Take one portion and roll out into a round circle of 8-9″ diameter and about 3-4 mm thick.
Preheat the oven to 350 degrees F for 5 minutes.
Place the pizza base in the oven and bake for about 5-6 minutes.
Pizza base is ready for making any delicious pizza. You just need to put your favorite toppings in it and bake in oven.
Chef Tips:
It is very important to buy fresh yeast.
You can top this homemade pizza base with your favorite toppings and can make various delicious pizza's such as homemade pizza, tandoori paneer pizza, paneer cheese pizza, vegetable cheese pizza, spicy chicken pizza, vegetable paneer pizza and many more.