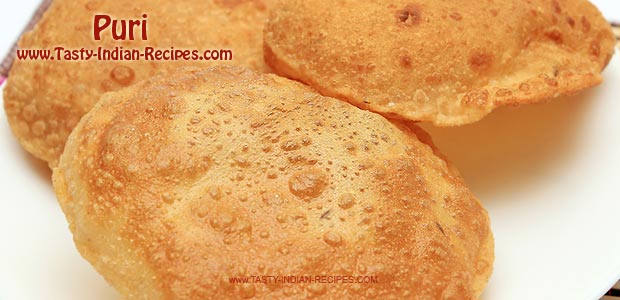 Puri is simply made with wheat flour, ajwain seeds and salt. It is the dream of every Indian woman to make a fluffy puri and a fluffy chapati (Indian roti) recipe and many of my readers have been asking me the way of making fluffy puri. So I decided to make it and take step by step photos to simplify it for you.
The simply method to get puffy puri is the proper deep-frying in hot oil. Also the oil temperature plays an important role. So without wasting much time, here is a recipe of Fluffy Puri.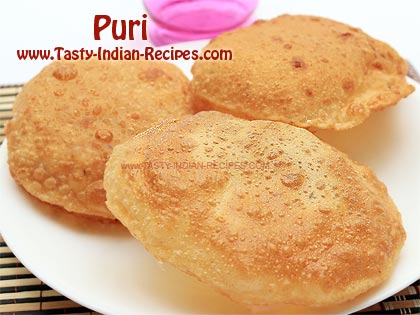 Preparation time: 5 minutes
Cooking time: 10 minutes
Servings: 5
Ingredients required for making Puri Recipe:
2 cups wheat flour
Salt as per taste
1/2 tsp black pepper powder
1/2 tsp red chilli powder
A pinch of ajwain seeds
Water to knead dough
Oil for deep frying
How to make Puri Recipe:
Combine the flour, salt, black pepper, ajwain and 1 tbsp of oil. Knead the dough by adding little amount of water. Knead until it becomes soft, smooth and non-sticky. Leave to rest for about 10 minutes.

Divide the dough into small equal portions. Roll out each portion into 4-5 inches roti with rolling-pin. Use dry wheat flour if required for rolling smoothly.

Heat sufficient oil in a pan and wait until it becomes fully hot. Now before putting the puri in oil, maintain the temperature very low. Carefully place one rolled out puri in hot oil and immediately pour hot oil over the puri with the frying spatula.

Higher the flame just for a few seconds. Puri will puff up like a ball. Flip and cook from the other side as well until turns into golden brown in color. Lower the flame and fry continue with spatula, so it gets a nice brown color.

Now puri is puffed up from all the sides and turned into a nice golden color from both  sides. Drain on oil absorbent paper napkin.

Yummy and fluffy puri is ready to serve with Peshawari Chana and Besan Ke Pakode.
Chef Tips:
This puri easily goes with suji halwa. You can even pack it your kids school tiffin.
Make the smooth dough and roll out each ball into thin roti, it will help in easy puffing up of puri.
Each time put only one puri in hot oil and fry till it is completely done. Do not add 2-3 puri's at a time, you will not get a puffed up puri then.