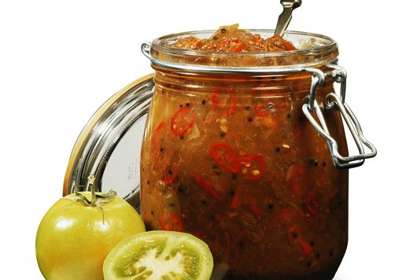 Lemon Chutney is the fresh, homemade chutney recipe, made with fresh lemons, sugar and some whole spices. This chutney is a great accompaniment with Indian meal and you can preserve it for 8- 12 months.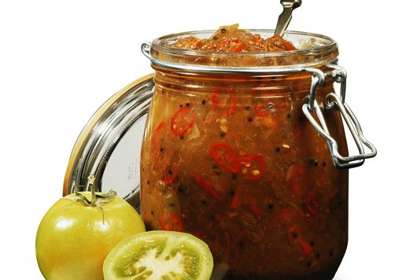 Preparation time: 15 minutes
Cooking time: 5 minutes
Servings: 15-18
Ingredients:
1 kg Lemons (Nimbu)
1/4 tsp ground Cloves (Lavang)
1-1/4 cup  Sugar (Cheeni)
1-1/2 tsp Red chili pepper (Lal Mirchi)
1/4 teaspoon ground big Cardamoms (big /black elaichi)
1 tsp Salt (Namak)
How to make Lemon Chutney:
Wash the lemons and wipe them with a cloth.
Squeeze out the whole juice from the lemons and mix salt into it.
Now peel the skin of lemons in long strips and soak in the juice.
Then put them in an air tight jar / container for about one week.
Make sure, you have to shake the jar every other day till the lemon skins are tender.
Mix the remaining ingredients very well.
Keep the prepared chutney under the sun until sugar is dissolved.
You can store this chutney at least for one year if it is kept in an airtight jar.
While taking out the chutney from the jar, always use a dry spoon / spatula.