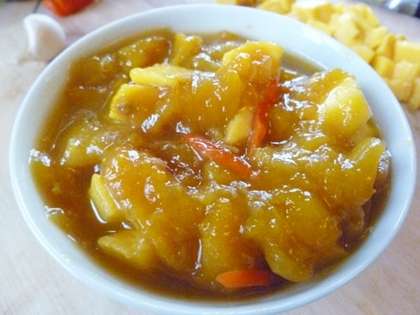 Mango Chutney is the delicious homemade Chutney recipe, blended well with lots of fresh green mango and flavored with raisins and spices.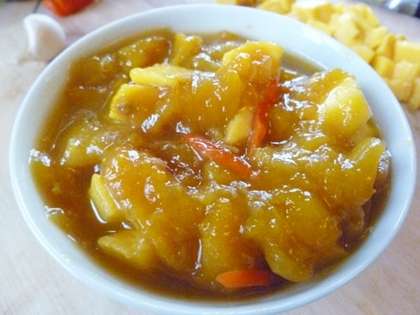 Prep time:
Cook time:
Total time:
Yield: 15 servings
Ingredients:
1 kg Green Mangoes (Aam)
1 cup sugar
3 tbsp vinegar
2 tsp ginger chopped
4 cloves garlic minced
2 green cardamoms
2 black cardamoms
1 inch cinnamon
3 tbsp raisins
1 tsp red chilli powder
1 green chilli
Salt to taste
How to make Mango Chutney:
Wash the mangoes and pat dry them with clean kitchen napkin.
Peel the mangoes, remove the stone and cut them into long but thin slices.
Now heat a pan and add slices of mango along with ginger, garlic and green chilli.
Saute on medium high flame until mangoes tenders.
Add sugar, vinegar and other ingredients except raisins.
Mix it very well.
Cook until the mixture thickens.
Add little bit of water and season with some salt.
When the mixture turns little golden in color, add raisins and mix very well.
Cool the chutney and then pour into an air tight container.
Place the chutney at cool and dark place.