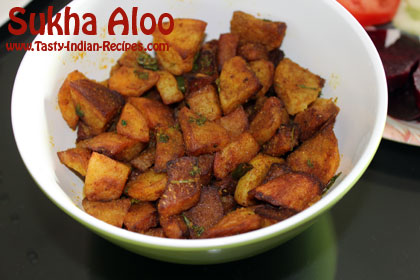 Sukha Aloo is the most famous Indian Fasting Recipe  (Vrat / Virat). I remember my mom used to cook dry aloo with flavorful spices. Even though without adding onion and garlic, they were so delicious. Today I'm going to follow my mom's recipe on this Navratri.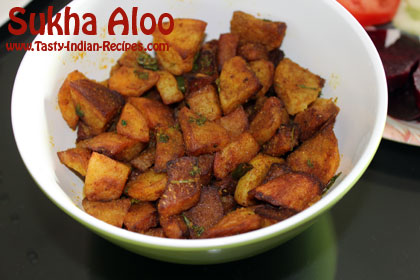 Prep time:
Cook time:
Total time:
Yield: 4 servings
Ingredients Required for making Dry Aloo / Sukha Aloo:
4-5 big potatoes (boiled)
2 green chillies, chopped
Few curry leaves
1/2 tsp red chilli powder
1/2 tsp turmeric powder (optional)
1/2 tsp dry mango powder (amchur)
2-3 tsp cooking oil
Salt to taste
How to make Sukha Aloo :
Remove the outer skin of boiled potatoes and chop them in cubes.

Heat oil in a pan and add curry leaves.

Saute for a while by adding green chillies. Mix in boiled potatoes and add salt to taste.

Stir fry the potatoes on a high flame with quick toss. Add turmeric, red chilli powder and mango powder.

Cook till the potatoes turn crispy and golden brown.

Serve hot with Indian bread / Indian Roti.