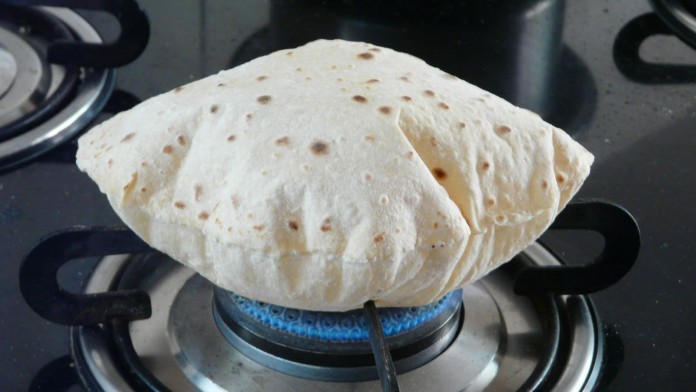 Indian Chapatis are made of wheat flour, salt, oil and water. They serve an integral part of Indian Cuisine. Chapati, Indian roti or Indian Flat bread is very simple and delicious recipe, which is to be served with any gravy or dry dish. Chapatis are also useful for making wraps and rolls. Chapati Flour is known as "atta", which is made of Whole Wheat grain. Wheat Flour is full of nutrition's and the best source of  having calcium and protein in your body. Whole wheat flour also contains huge amount of fiber which is very good for diabetic patients. People always want to know the secret of making soft chapati's. Here are that secret for you.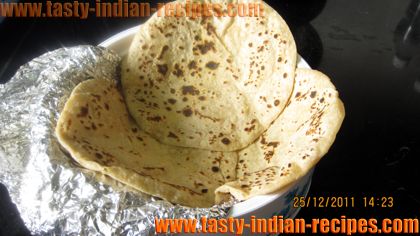 Preparation time: 5 minutes
Cooking time: 10 minutes
Servings: 10 chapatis
Ingredients:
2 1/2 cups Wheat Flour
1 1/2 tsp salt
1 cup cooking oil
Water
How to make Indian Chapati:
In a mixing bowl combine the wheat flour, salt, and 1 tsp of oil.
Knead the smooth dough by adding sufficient amount of water.
Leave to rest at least for 30 minutes.
Divide the dough into 10 equal parts.
Roll each part carefully and try to make thin round shape with a rolling pin.
Heat up a griddle or tava and place rolled chapati on it.
Cook until you see the brown spots, flip and cook on the other side as well.
Sprinkle little bit of oil and make remaining parts of dough like this.
Serve hot with any gravy or dry dish.
Chef Tips:
You can use olive oil instead of vegetable oil.
If your dough is too soft then you will not be able to roll it, it is better to adjust water accordingly while kneading.
Serve these yummy roti's with paneer butter masala or chicken tikka masala and many such recipes.