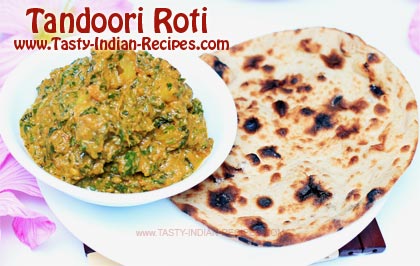 Tandoori Roti is a famous bread (roti) made with whole wheat flour, curd, baking soda and salt. It is extremely easy to make tandoori roti, specially when you have clay oven in your house. Tandoori roti tastes great even if it is cooked in electric oven.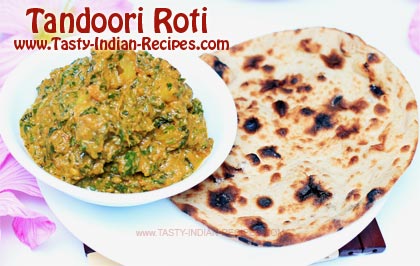 Preparation time: 5 minutes
Cooking time: 10 minutes
Servings: 8
Ingredients:
4 medium size cups wheat flour
2 tbsp fresh curd (yogurt, dahi)
A pinch of baking soda
Salt as per requirement
Water to knead the dough
How to make Tandoori Roti:
Whisk the curd, add little bit of water and keep aside.
Combine the flour, salt and baking soda.
Mix well and gradually add the curd mixture.
Knead the dough with little amount of water until become soft and smooth.
Cover with the moist cotton cloth and keep aside for 35-40 minutes.
Preheat the oven or tandoor for 5-6 minutes.
Take a small portion of the dough, roll with the rolling pin by dusting some dry flour.
Make a thick roti and place in the oven.
You may place 2 roti's at a time in the oven.
Bake for about 5-6 minutes on 250F degrees.
Keep checking, when the black spots starts appearing on top of the roti, then remove from the oven and serve immediately.
Tandoori roti easily goes with any type of curry or gravy dish.
Make all tandoori rotis in the similar way.
Chef Tips:
You can serve it hot with dal fry as well.
At the time of serving, apply little bit of butter, oil or ghee as per your choice.
Make sure that too much use of water make difficult to make rotis and too hard dough is not good for making soft tandoori rotis. Hence add water slowly and gradually.
If you have clay oven (tandoor) in your house, then go with it. You will get the true aroma and taste of tandoori roti only in the clay oven.