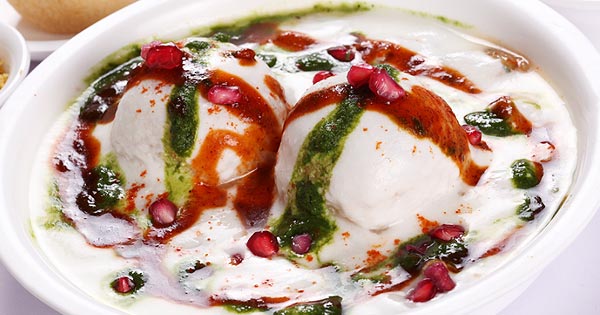 Dahi Vada is simply a tremendous dumpling of urad dal, topped and flavored with the sweet and spicy yogurt and tamarind chutney. It is one of the great serving of North Indian Cuisine, which is the delicious and special yogurt dish to be served along with the main course. Although it is the special delicacy of North part of India but because of its irresistible taste and mouth watering flavor this is truly famous in every part of our India.
Preparation time: 15 minutes
Cooking time: 20-25 minutes
Servings: 8-10
Ingredients:
1-1/2 cup urad dal (split black lentils)
4 cups fresh curd
4 green chillies thinly chopped
1 inch ginger
A pinch of baking soda
4 tbsp sugar
2 tbsp khajur imli ki chutney
Oil to deep fry
Black pepper powder to sprinkle
Cumin (jeera) powder to sprinkle
Fresh coriander leaves chopped
Salt to taste
How to make Dahi Vada:
Soak the urad dal in the water for 8-10 hours or overnight.
Next morning, drain the water from urad dal by leaving little bit.
Mix dal and ginger in a clean grinding jar and grind coarsely.
While grinding dal, use little bit of water for the smoothness of batter.
Make a fine paste of dal.
Add salt, green chillies and baking soda.
Mix the batter thoroughly to make fluffy and smooth.
Heat a pan and add sufficient oil.
Make small balls from the batter and pour into the hot oil.
Higher the flame for few seconds and then fry on low flame.
Deep fry until vada's turn into golden brown in color.
Drain the fried vada's on paper napkin and allow to cool.
Soak the deep fried vada's in normal water for about 10-15 minutes.
In the meantime whisk the curd in a bowl.
Add little bit of water and salt.
Mix well and add sugar.
Mix thoroughly until sugar melts well in the curd.
Drain and squeeze out the excess water from vada's.
Arrange either one or 2 to 3 vada's in individual bowls, and pour the whisked curd.
Sprinkle little bit of pepper powder and cumin powder.
Garnish with fresh cilantro and keep in the refrigerator.
Serve either with khajur imli ki chutney or pour little bit of chutney on top of dahi vada and serve chilled.
Chef Tips:
After deep frying the vada's, allow them to cool enough and then soak in the water. In this way your vada will enhance and become puffy.
Serve these dahi vada's chilled, you will really like them.
You may sprinkle little bit of red chilli powder while serving.
For making your vada's soft from inside you just need to add little bit of salt while soaking the urad dal in the water.