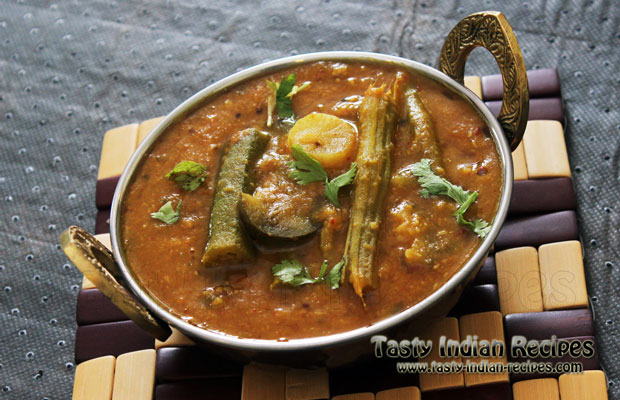 Araichu Vitta Sambar Recipe is one of the most famous Tamil Brahmin Recipe. It's a simple Sunday Lunch of their menu and can be made easily with Tur Dal and Vegetables.
Few days back, one of my Tamil Brahmin friend told me about this recipe and I was excited to make it, hence yesterday I made this Araichuvitta Sambar and Khara Pongal Recipe for the lunch. We all enjoyed this different and a comfortable cuisine. This Sambar is served in several South Indian Weddings as well, as it's a wholesome meal of Dal, Vegetables and Spices.
Araichu Vitta Sambar Recipe is a traditional South Indian Recipe and easy to prepare, it does not need Sambar Powder or any extra special spice. I used my favorite Vegetables in it, such as Drumstick, Radish, Brinjal, Lady finger and Pumpkin, and each one renders its unique taste to this sambar.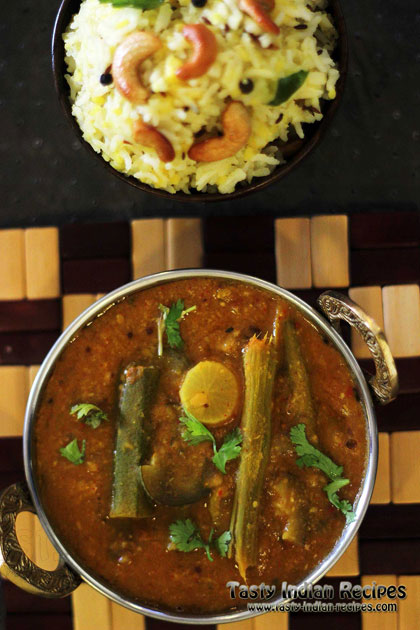 You can add your favorite vegetables in it. Some people mix several lentils for making it, but I prefer to use only Tur Dal, because that is the only way of making it more traditional and South Indian style. I like to keep my Sambar simple and elegant. So without wasting much time, Let's start making it. Keep all the Vegetables ready for making Araichu Vitta Sambar Recipe. (I used Drumsticks, Brinjal, Bottle Gourd, Bhindi, Radish and Onion). For exact quantities, please refer to recipe snippet below.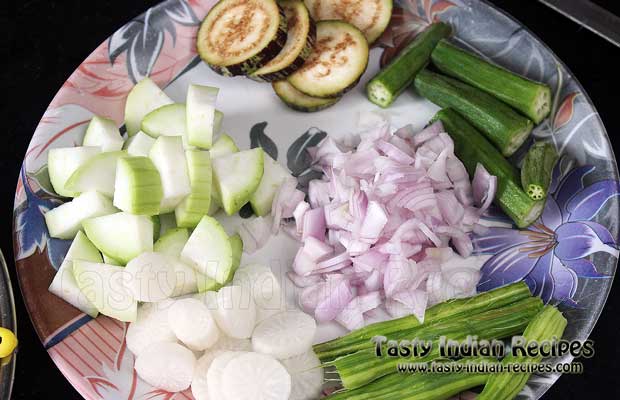 Soak Tur Dal in water for about 30 minutes.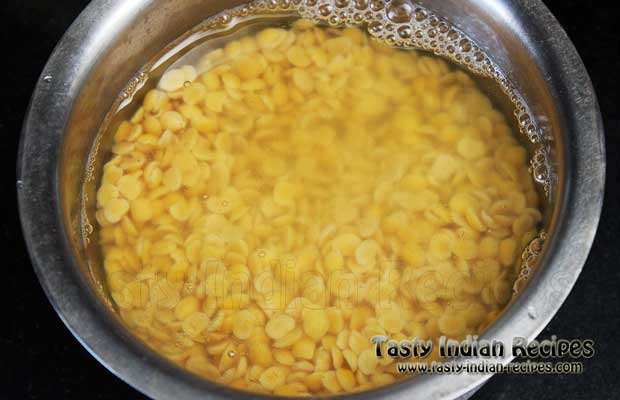 Pressure cook dal with some salt, mash and keep aside.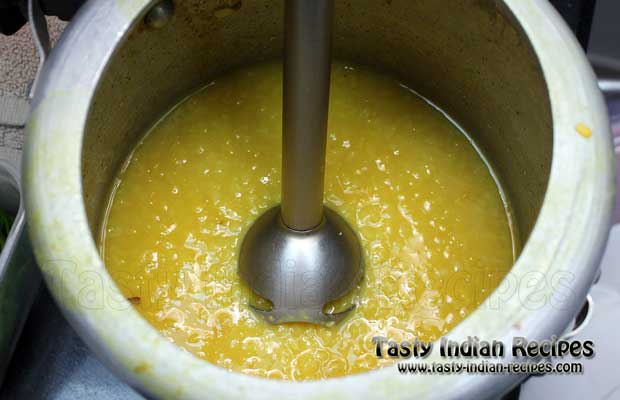 Soak Tamarind in warm water for few minutes.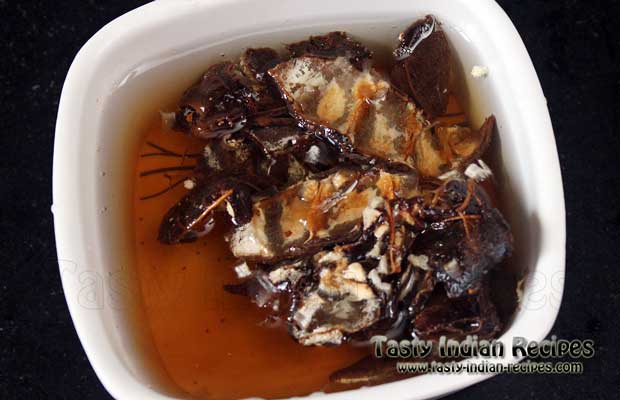 Roast the Chana Dal, Red chilies, Fenugreek Seeds, Coriander Seeds, Raw Rice and Grated Coconut for 1-2 minutes on low flame. Keep aside to cool down completely.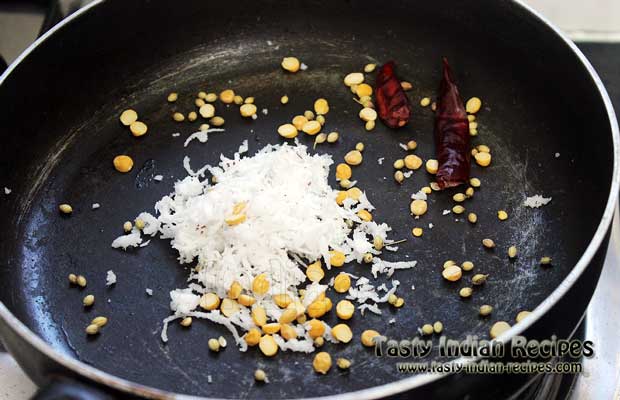 When the mixture cools down, then put it in a grinding jar.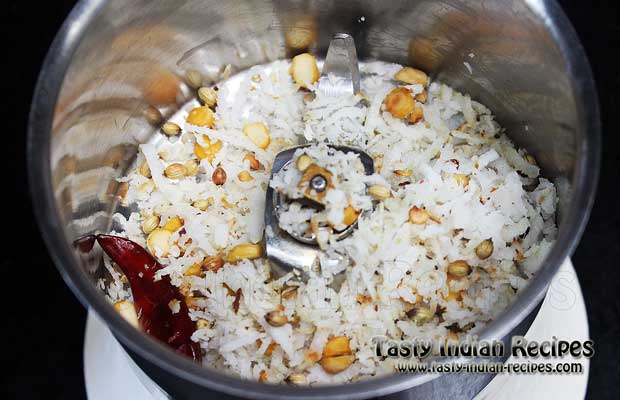 Grind into a smooth paste and keep aside.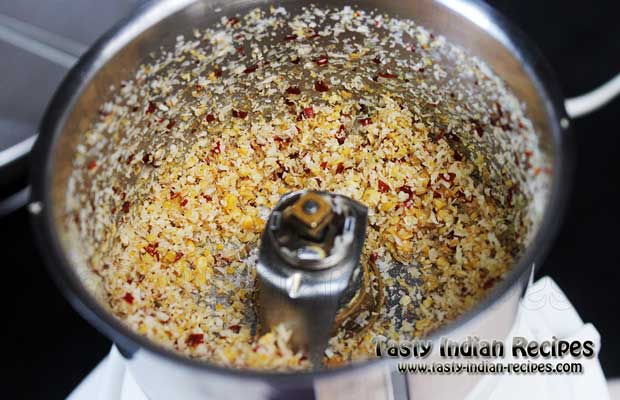 In heating oil, add Cumin Seeds, Mustard Seeds, Curry Leaves, Chopped Ginger and Hing. Saute for a while.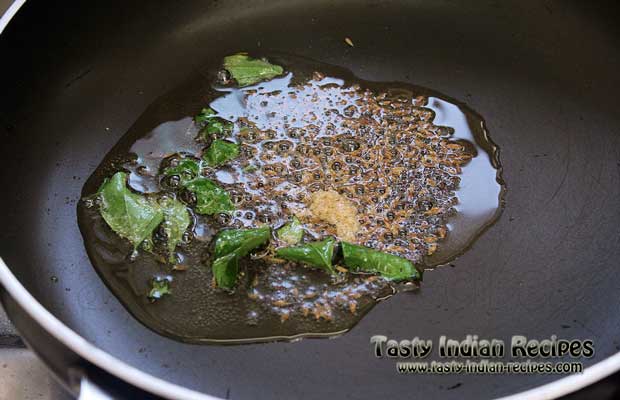 Add chopped onion and stir continue on low flame for one minute.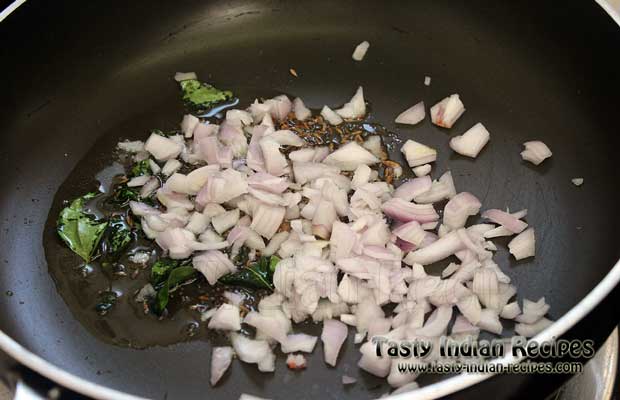 Add chopped Vegetables and mix well.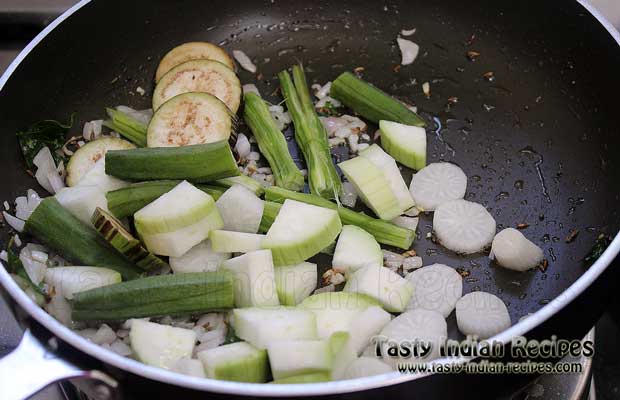 Add about 2 cups of water, Turmeric powder and Salt to taste.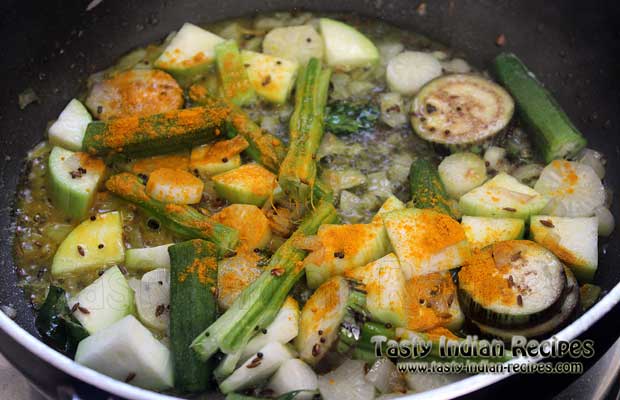 Stir in Tamarind Juice and Ground paste of Coconut.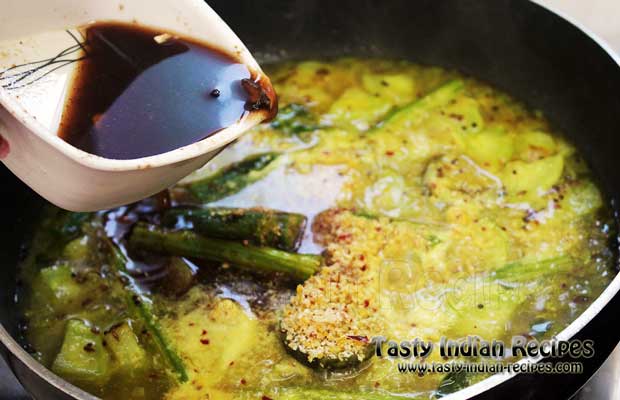 Add boiled and mashed Tur Dal and mix very well.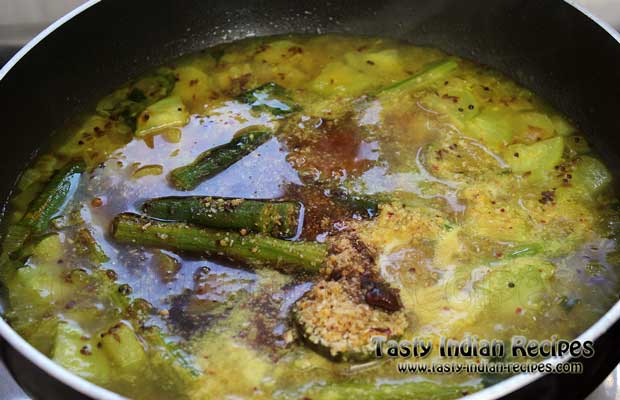 Garnish with Few fresh chopped Coriander leaves.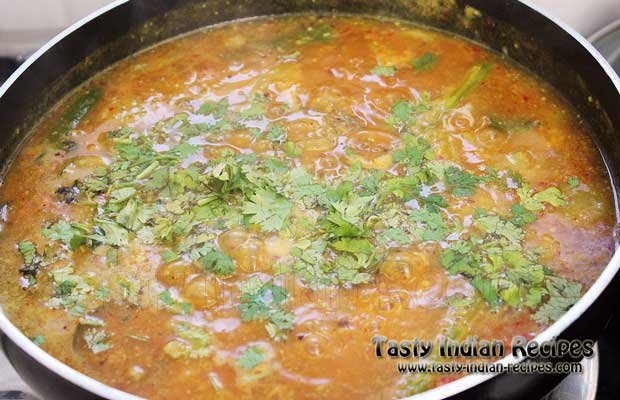 Your Araichu Vitta Sambar is now ready.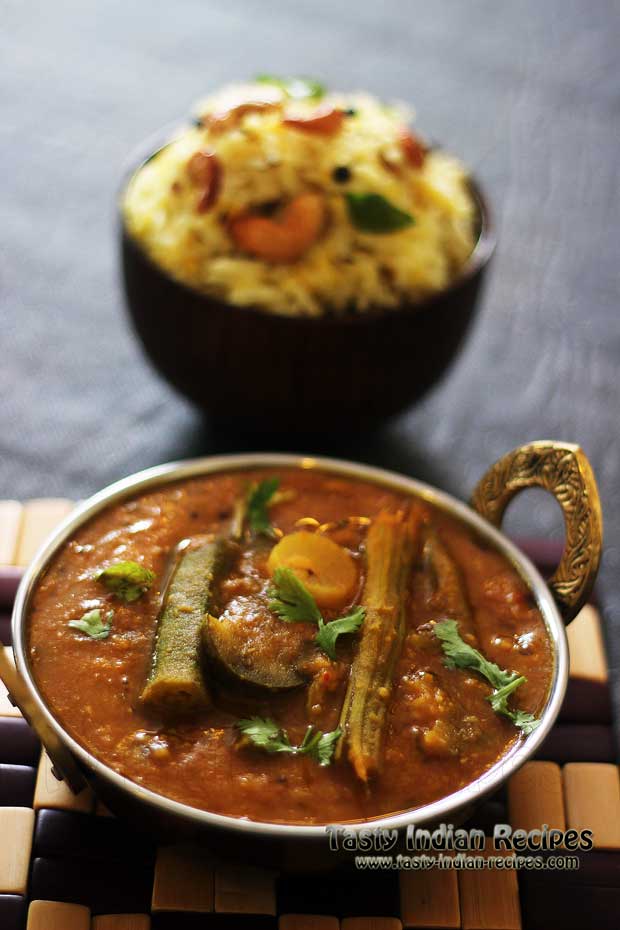 How to make Araichu Vitta Sambar Recipe:
Araichu Vitta Sambar Recipe
Araichu Vitta Sambar Recipe is one of the most famous Recipe of Tamil Brahmin's. It is made with Tur Dal, Vegetables and Spices.
Ingredients
1 cup Toor Dal
1/2 cup Drumsticks (peeled and chopped)
1/2 cup Brinjal (Baingan), cut into rings
1 cup Bottle Gourd (lauki), chopped
1/2 medium Radish (Mullangi/Mooli) (Peeled and cut into rings)
5-6 pieces of Lady Fingers (Bhindi), Slitted
1 medium Onion, chopped
Tamarind, small gooseberry sized ball
2 tablespoon grated Coconut
1 tablespoon Chana dal (Bengal gram)
1 teaspoon Fenugreek Seeds
1 teaspoon Mustard Seeds (Rai)
1 teaspoon Cumin Seeds (Jeera)
1/4 teaspoon Asafoetida (hing)
Few Curry leaves
2-3 Red chilies
1 tablespoon Coriander seeds
1/4 teaspoon raw rice (optional)
1/2 teaspoon Turmeric powder
Few fresh coriander leaves, finely chopped
1 tablespoon+1/2 teaspoon Cooking oil
Salt to taste
Instructions
Soak dal in 2 cups of water for about 20 minutes (Soaking help the tur dal to get cooked well and also consumes less time while cooking), and then pressure cook it with some salt. Cook dal for 4-5 whistles, mash and keep aside.
Soak tamarind in warm water for 15 minutes and extract its juice. Discard the pulp and keep aside.
Heat 1/2 teaspoon of oil in a pan and add coriander seeds, fenugreek seeds, red chilies and raw rice. Roast the mixture for few seconds on low flame. At the end, add grated coconut in it and switch off the flame. Make sure you just need to roast the coconut little bit and not to burn it.
Cool down the mixture aside and then grind into a smooth paste.
Now heat 1 tablespoon of oil in a pan and add cumin and mustard seeds. When the seeds starts to pop up, add curry leaves, chopped ginger and hing.
Add chopped onion and saute on low flame for few seconds.
Add chopped and round cuts of vegetables (Radish, Brinjal, Drumstick, Bhindi and Bottle Gourd).
Mix in about 2 cups of water and salt to taste. Cover the pan and leave to cook for 3-4 minutes on low flame, till the veggies are tender.
Add tamarind juice and turmeric powder. Also mix in mashed tur dal. Stir and boil till the raw flame of tamarind goes away.
Now mix in prepared ground paste of coconut and keep on cooking for 2-3 more minutes. Do not make this sambar too thick or watery, hence adjust the consistency accordingly.
Finally garnish with fresh chopped coriander leaves and serve hot.
Notes
Tasty Indian Recipes
You can also read more about Sambar Dish at wikipedia.