Dal Tadka (Dhaba Style) Recipe is the unique, flavorful and tasty Indian Dal Dish. Yellow Moong Dal is boiled and cooked with onion, tomatoes and spices and finally tempered with flavorful herbs.
This kind of Dal Tadka is also known as Dal Tadka Restaurant style.  This Recipe is one of the most popular dal recipe served in Indian restaurants. Generally dal tadka is cooked with lentils  and tempered with oil or ghee. This Dal Tadka Recipe with plain Indian Roti and Jeera Rice is my favorite meal. Dal Tadka (Dhaba Style) Recipe and Tandoori Roti is a staple food in Punjab and Haryana and typically served in most of the road side dhabas.
Tadka or Chaunk is the Hindi word for tempering. In this technique the spices are fried in oil, thereby the spices release essential oils & thus changes the flavor, aroma and taste remarkably and gives the final touch to this dal.
Tempering or Tadka is considered an important part in Indian cooking, in fact, we temper lot of our Indian dishes, such as dals, rice, vegetables and chutneys. Today I have cooked North Indian style Dal Tadka Recipe by using yellow dal (split lentils). Some people make it with arhar dal (split pigeon pea lentils) and masoor dal (split pink lentils). It's because dal is a staple food in India and can be cooked in so many varieties. Each state is having their own delicious recipes.
Few of the famous Indian dal recipes are dal makhani, dal fry, masoor dal, teen dal and chana dal. The preparation of this dal is extremely easy, you just need to boil it, cook it in onion and tomatoes and lastly temper it just before serving. Some people even make this dal ready in advance and keep in the fridge and before serving they heat it and temper it to serve immediately.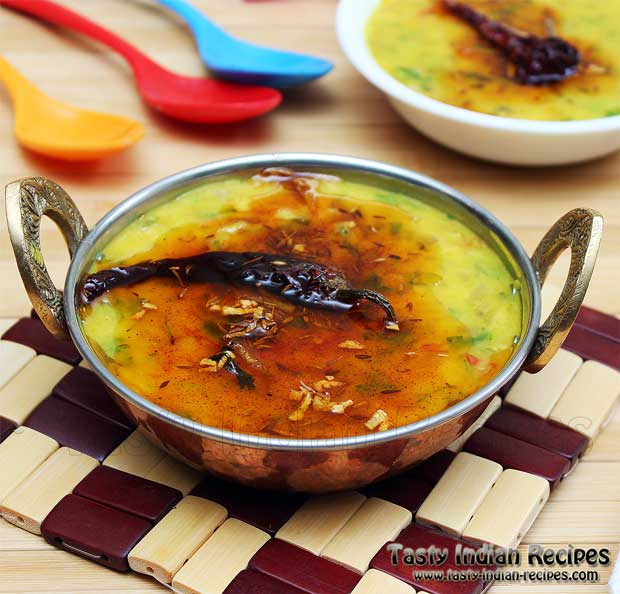 While cooking this dal, you will observe that how the tempering adds a lot of oomph factor to this and see the plain cooked dal gets transformed into an aromatic & beautiful dal. The only thing missing in this tadke wali dal is the aroma of burnt charcoal, which we feel from far away from high way dhabas. Here at home I couldn't get that in my hands to infuse the smoky charcoal flavor in dal. But it was worth to make it, you will really enjoy this Homemade Dhaba Style Dal Tadka Recipe.
For the Tempering / Tadka of Dal you will need:
1 tablespoon oil
1 teaspoon cumin seeds
1/2 teaspoon garlic, chopped
1/2 teaspoon ginger, julienne
1/2 teaspoon red chilli powder
2 whole Kashmiri red chillies
How to make Dal Tadka (Dhaba Style) Recipe:
Dal Tadka (Dhaba Style) Recipe
Dal Tadka (Dhaba Style) Recipe / Dal Tadka Restaurant Style is made with Yellow Moong Dal, Onion, Tomato and Spices. Spicy Red Chili, ginger, garlic tadka on top of it makes it very flavorful.
Ingredients
1 cup yellow moong dal (split yellow gram)
1 onion, finely chopped
1 tomato, finely chopped
2 green chilies, chopped
1/2 teaspoon ginger, finely chopped
1 /2 teaspoon garlic, finely chopped
3 pods of garlic
1/2 teaspoon cumin seeds (jeera)
1 teaspoon red chilli powder
1 teaspoon turmeric powder
1/2 teaspoon coriander powder
1 teaspoon kasuri methi (fenugreek leaves), crushed
1 tablespoon cooking oil
2 tablespoon fresh coriander leaves, finely chopped
Salt to taste
Instructions
Pick and rinse dal in running water and soak it for about 10 minutes. Soaking helps in cooking dal much faster.
Transfer soaked dal in a pressure cooker and add about 2 cups of water, salt to taste, 1/2 teaspoon red chilli powder, 1/2 teaspoon turmeric powder, 1/2 teaspoon coriander powder and whole pods of garlic.
Cover the pressure cooker with its lid and cook dal over high flame for 4 whistles. Do not open its lid immediately. Let it cool until pressure comes down naturally. This process is not only for the safety but also required to cook dal properly. Once dal is well cooked, add some water and then blend or mash it with churner / wooden spoon or with an electric blender till well mashed and keep aside.
In the meantime, finely chop onion, tomatoes, garlic, ginger, green chillies and coriander leaves. Also make some ginger julienne and keep aside, as it will be required for tempering dal. Heat oil in a pan and add cumin seeds. When seeds begin to crackle, add chopped onion and stir-fry over medium flame for few seconds.
Now quickly add green chillies. Stir fry and add chopped ginger and garlic. Cook continue for few more seconds and then add chopped tomatoes. Cook till tomatoes turn tender. Now add little more salt and make sure, there is already some salt added while boiling dal. Hence carefully add it here.
Add mashed dal, remaining red chilli powder and turmeric powder. At this moment, also add 1 teaspoon kasuri methi and mix very well. Add about 1/2 cup of water, boil for a few more seconds and garnish with finely chopped coriander leaves.
Keep ready tempering ingredients as well.
For tempering, heat oil in a saucepan and add cumin seeds. Allow the seeds to pop up and then add chopped garlic and ginger julienne. Cook for 2 seconds and add red chilli powder along with whole Kashmiri red chillies.
Pour the entire tempering over cooked dal and serve immediately.
Notes
Do not over cook onion and tomatoes. You just need to tender them. Otherwise the mixture will get burnt and dal will not taste good.
Tasty Indian Recipes
Chef Tips:
Serve this Dhaba Style Dal Tadka with Jeera rice, mixed pickle and roasted papad to complete your meal.
For tempering, you can use ghee instead of oil.
Some people garnish this dal with some cream as well.
If you do not have pressure cooker then you can cook dal in a pot or in any vessel with good amount of water.
The consistency of dal tadka should not too thick or too thin, prefer to make it of slightly medium thick in consistency.