Paneer Bagh-E-Bahar is one of the popular Punjabi recipe, made in the combination of vegetables, cottage cheese, nuts and spices. Paneer with several vegetables is marinated in flavorful mixture of Yogurt and spices and then cooked in delcious garvy of onion and tomatoes.
Preparation time: 10 minutes
Cooking time: 20 minutes
Servings: 4
Ingredients:
2 cups paneer cubes
1 capsicum diced
1 onion diced
1 tomato diced
4 cloves garlic
1 inch ginger
4 green chillies
5-6 roasted almonds
1/2 tsp white sesame seeds
1 cup thick curd
1/2 tsp red chilli powder
1/2 tsp turmeric powder
2 tsp garam masala powder
1 tbsp lemon juice
Few cilantro leaves
Few mint leaves
2 tbsp oil
Salt to taste
For making its gravy you will require:
1 onion, chopped
2 tomatoes, chopped
1 tsp crushed kasuri methi
1/2 tsp Kashmiri red chili powder
1/2 tsp turmeric powder
1/4 tsp lemon juice
1/10 tsp red-orange food color
1 teaspoon oil/ghee
Salt to taste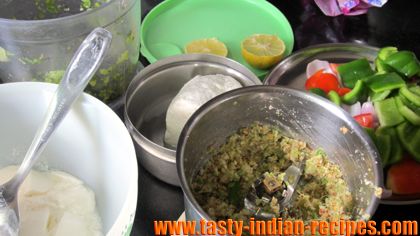 How to make Paneer Bagh-E-Bahar:
Combine garlic, ginger, green chillies, almond and sesame seeds.
Blend to make a smooth paste.
Mix the coriander and mint leaves and chop in the chopper.
In a bowl mix yogurt, the blended mixture, salt, spices and vegetables.
Mix well and add cubes of paneer.

Mix very gently and keep aside for 30-40 minutes.
Heat the oil in a non-stick pan.
Add the marinade of paneer and drizzle little bit of oil all over.
Cover the pan, simmer the flame for few minutes.
Uncover and leave to cook until veggies tenders.
Garnish with chopped mixture of cilantro and keep aside.

For making gravy, combine  chopped onion and tomatoes in a mixer and grind into a smooth puree.
Heat 1 tsp oil in a pan and stir in prepared puree.
Add little bit of salt and cook for 2-3 minutes till oil begins to separate.
Now add prepared dry paneer with vegetables. Stir in kasuri methi, milk, food color, red chili powder, turmeric powder and lemon juice.
Mix it very well and cook for only one minute. Serve hot with Indian Chapati, Naan or Puri.
Chef Tip:
Sometimes you can enjoy only dry paneer without making in gravy with tandoori roti. It tastes good and looks like a snack dish.