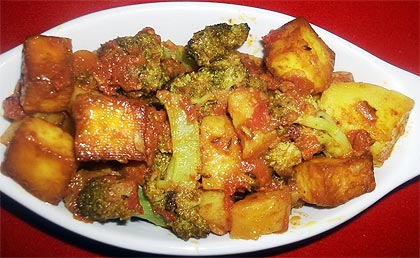 Aloo Paneer Recipe is a delicious and mouth melting curry recipe made with fried potatoes and Indian cottage cheese. It is a main course dish which is commonly seen in every wedding evening. We keep aloo or potatoes usually in spare but the best use of leftover paneer has been seen after making this great dish during the lunch time.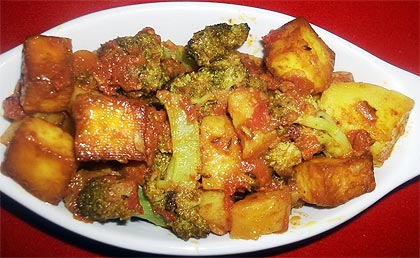 Preparation time: 10 minutes
Cooking time: 20 minutes
Servings: 4
Ingredients:
2 cups cottage cheese (paneer) cubes or rectangles
2 potatoes coarsely chopped
1/2 cup cauliflower florets
1 onion thinly chopped
4 tomatoes thinly chopped
2 tbsp ginger-garlic paste
2-3 green chillies sliced
3-4 curry leaves
1/2 tsp cumin seeds (jeera)
1/2 tsp kashmiri red chilli powder
1/4 tsp turmeric (haldi) powder
2 tsp coriander powder
1 tsp garam masala powder
1 tbsp ghee
Oil to deep fry
Fresh coriander leaves chopped
Salt to taste
How to make Aloo Paneer:
Heat sufficient oil in a pan and deep fry the big pieces of potatoes.
Remove on absorbent paper and keep aside. Also fry cauliflower florets and set them aside.
Now heat the ghee in another pan and add curry leaves and cumin seeds.
Fry until seeds starts crackling.
Add onion. Saute for few seconds.
Add ginger-garlic paste and green chillies. Fry for few more seconds.
Now add tomato puree, salt, red chilli powder and turmeric powder.
Cook until oil start separating.
Simmer the flame and stir for about 2-3 minutes.
Add paneer, cauliflower florets and fried potatoes. Also add coriander and garam masala powder.
Add water to make a thick consistency of gravy, do not make it curry.
It should look medium thick to serve. So add water accordingly.
Mix well and cook for 2 -3 minutes on low flame.
Garnish with fresh coriander leaves and serve hot with roti or rice.
Chef Tips:
You may use oil instead of ghee.
Do not pour more water in this dish. The consistency should be medium thick at the time of serving.
You can use fried paneer to make this dish.