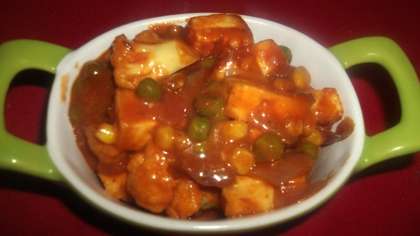 Cauliflower Paneer Masala is a combination of cauliflower (gobi) and paneer, both are well coated in the batter of cornflour and maida. Here Indian cottage cheese and cauliflower florets are cooked together in the delicious gravy. It is an exotic Indian Masala recipe which can be served either as a main dish or as a side dish. This recipe is very healthy and full of nutrition.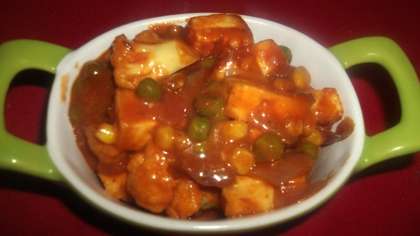 Preparation time: 15 minutes
Cooking time: 25-30 minutes
Servings: 2-3
Ingredients:
250 gms cottage cheese (paneer) cubes
1 medium size cauliflower (florets)
1 onion thinly chopped
4 tomatoes pureed
2 tsp ginger-garlic paste.
4 green chillies chopped
1 tsp cumin seeds (jeera)
4-5 curry leaves
1 cup cornflour
1/2 cup maida
1 tsp crushed black pepper
1/2 teaspoon turmeric powder
1 teaspoon red chili powder
1 teaspoon garam masala
Salt to taste
Cilantro chopped
Oil to deep fry
1/4 cup water
How to make Cauliflower Paneer Masala:
In a bowl mix cornflour,salt, maida and crushed black pepper.
Add little bit of water to make a thick batter.
Heat up a pan and pour sufficient oil for deep fry.
Coat the pieces of paneer and cauliflower florets in the mixture of bowl, deep fry in hot oil and place on paper lined plate to drain the whole oil.
In a pan heat 1 tsp of oil, add cumin and curry leaves, allow to crackle well.
Add green chillies and ginger-garlic paste, stir well.
Add chopped onions, stir continuously until onions are brown and soft.
Add tomato puree, salt, red chilli powder, turmeric powder and cook for 5-6 minutes.
Add fried paneer and cauliflower.
Add garam masala powder, cover the pan and cook for 3-4 minutes on medium high heat to meld the flavors.
Garnish with fresh cilantro.
Serve hot with naan or tandoori roti.
Chef Tips:
To give the Chinese flavor to the same recipe, just add little bit of vinegar and soy sauce. The taste will be great.
You can use shallots instead of onion.
You can use green part of spring onions instead of cilantro to garnish this recipe.