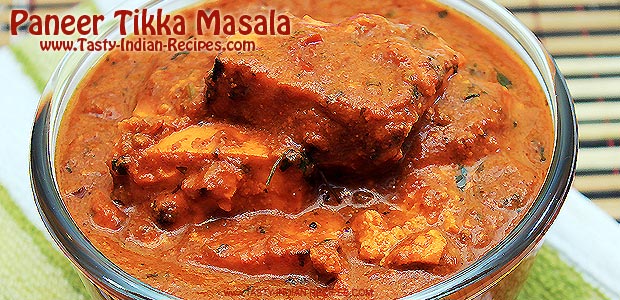 Paneer Tikka Masala recipe is a mouth watering Punjabi tikka masala recipe of Indian cuisine, which is marinated in spices and yogurt. You can buy tikka masala from any Indian grocery shop. Tikka masala is available from many different brands and you will definitely get little bit different test from different brands of tikka masala. So, lets get started.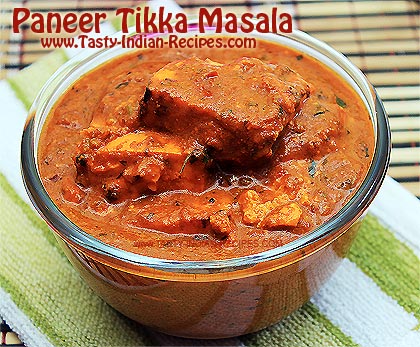 Preparation time: 5 minutes
Cooking time: 20 minutes
Servings: 4
Ingredients:
200 gms cottage cheese (paneer)
1 capsicum
1 cup curd
1 onion finely chopped
4 tomatoes pureed
2 tsp ginger-garlic paste
4 green chillies chopped
1 tsp red chilli powder
1/2 tsp turmeric powder
1 tsp coriander powder
2 tsp tikka masala powder
1/2 tsp chaat masala
salt to taste
fresh coriander leaves chopped
How to make Paneer Tikka Masala:
Cut the paneer in cubes and cut the capsicum in slices.
In a bowl add curd,salt, tikka masala and chat masala.
Add paneer and capsicum, mix well and keep in the refrigerator for 1 hour.
After an hour, take the skewers and spread some oil on it.
Place the marinated paneer and capsicum one by one.
Heat up a tawa or flat non stick pan, sprinkle some oil and place the skewers.
Turn the skewers time to time, till the paneer and capsicum are roasted properly.
Take out the paneer and capsicum from the skewers and place them on a plate and keep aside.
Heat oil in a pan, add ginger-garlic paste and chopped green chillies.
Saute well. Now add chopped onion, cook for 2 minutes.
Add tomato puree, salt, red chilli powder, turmeric powder and coriander powder.
Cook for 5 minutes on medium high flame.
Finally add paneer tikka and capsicum. Stir for 2 minutes.
Garnish with fresh coriander leaves.
Serve hot with roti or naan.
Chef Tips:
Tikka masala is readily available in the market. If tikka masala is not available you can also use Tandoori masala in its place.
Always keep marinated food in refrigerator.
Cover the marinated bowl or container tightly to keep it fresh for long time.