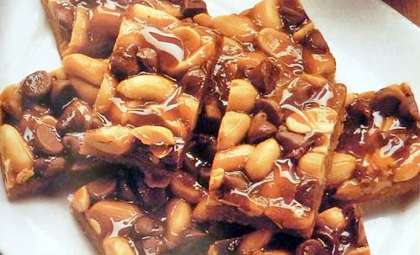 Peanut Brittle is the crunchy texture of peanuts, butter, sugar and vanilla extract. This is the perfect candy to enjoy the holidays. Learn to make delicious and buttery home made Peanut Brittle by following these easy steps.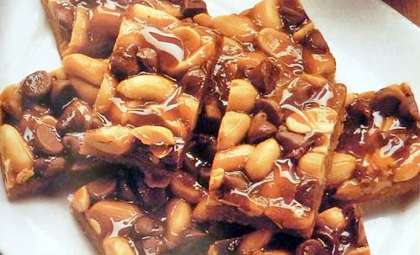 Preparation time: 12 minutes
Cooking time: 35 minutes
Servings: 6
Ingredients:
250 gms raw peanuts
2 tbsp unsalted butter
3 cups granulated sugar
200 ml light corn syrup
1/2 tsp baking soda
3/4 cup water
1 tsp vanilla extract
A pinch of salt
4 cookie sheets
1 tbsp butter for greasing
How to make Peanut Brittle:
Melt the butter in a heating pan.
Add sugar, water, salt, corn syrup and peanuts.
Stir continuously until few boils.
Stir carefully and dissolve the sugar completely.
While the mixture is on boil, place a candy thermometer on the side of the pan.
Stir occasionally and cook until thermometer shows the temperature about 145 degrees C.
Add baking soda and vanilla extract.
Stir for a couple of minutes.
Grease the cookie sheets with butter and pour the brittle mixture on each cookie sheet.
Spread evenly to make the thin brittle.
Allow to cool at room temperature for about 15 minutes.
Break into desired shapes and pieces.
Serve hot or chilled, brittle is always yummy.
Chef Tips:
Store the prepared peanut brittle in air tight containers for long lasting.
You can keep them at room temperature for 12-15 days.
Wear the gloves at the time of spreading the mixture to prevent your hands from burning.