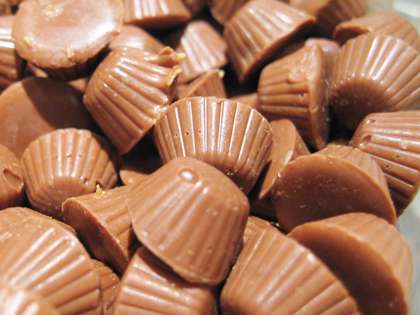 Peanut Butter Cups is a buttery and chocolaty candy, here the delicious mixture of peanut butter is filled in the candy and then coated with the yummy melted chocolate. It is one of the most popular candy servings, which is famous in all over the world.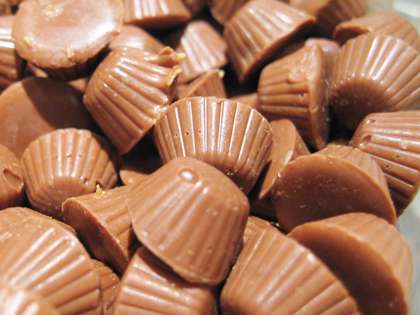 Preparation time: 5 minutes
Cooking time: 30 minutes
Servings: 45 peanut butter cups
Ingredients:
50 gms unsalted butter
150 gms peanut butter
2 milk chocolates coarsely chopped
1/2 tsp shortening
1/2 cup sugar
1/4 tsp salt
How to make Peanut Butter Cups:
In a sauce pan melt the butter and peanut butter.
Make it little soft but not brown.
Mix the sugar and salt, stir constantly.
Heat a big vessel and fill with the water.
Keep the vessel on high heat until water boils.
Organize a saucepan over the vessel in which water is boiling.
Melt the chocolates along with the shortening in that pan.
Arrange the paper lined muffin cups.
Pour a little amount of melted chocolate on each muffin cup.
Top little bit of peanut butter mixture, again drop a teaspoon of melted chocolate.
Finally refrigerate the prepared cups until set.
Chef Tips:
Leave to set these peanut butter cups for couple of hours and then serve.
You can heat them little bit just before serving to enjoy the hot yummy dessert.