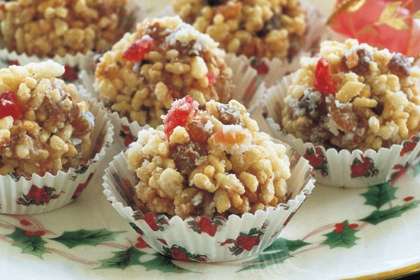 These cute and delicious Christmas Crackles are made from rice bubbles, mixed fruits and kid's favorite ingredients. Let your kids celebrate Christmas Eve or any time of year with these yummy treats of Christmas Crackles, which has all the flavors and colors to boost your children.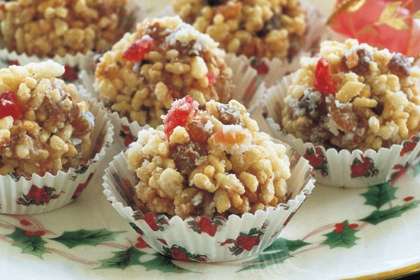 Preparation time: 7 minutes
Cooking time: 30 minutes
Servings: 20 Christmas crackles
Ingredients:
2 cups rice bubbles
50 gms butter
1/2 cup White chocolate melts
1/2 cup grated coconut
150 gms caster sugar
1 cup Tropical mixed fruits
How to make Christmas Crackles:
Place the butter in a saucepan and stir until melted.
In a mixing bowl add rice bubbles, sugar, coconut and mixed fruits.
Add the melted butter and chocolate melts in the mixture of rice bubbles, stir to combine.
Spoon this mixture into 20 mini patty cases.
Leave them to set in the fridge for 30 minutes.
Chef Tips:
You can use marshmallows also instead of mixed fruits.
The mixture of crackles can be kept for 4-5 days ahead in air tight container.
I have used caster sugar because it dissolves easily, but if it is not available then you can add normal sugar but grind it before adding.