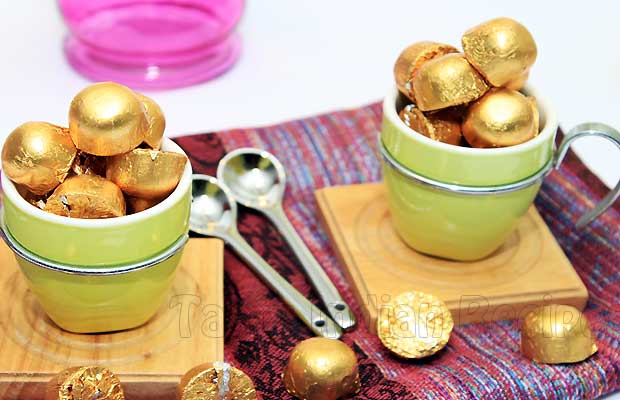 Chocolate Truffles are yummy chocolate rolls or rounds flavored with the cream, butter, mixed nuts and lots of dips. These are truly mouth watering chocolate truffles which are ready to rock any party or occasion.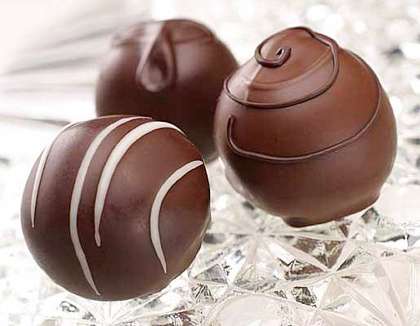 Preparation time: 10 minutes
Cooking time: 20 minutes
Servings: 25-30 truffles
Ingredients:
300 gms semisweet chocolate chopped
1 cup unsalted butter
150 ml fresh cream
1/2 tsp green cardamom powder
1 tbsp powdered sugar
1 tbsp chocolate melted
2 tbsp mixed nuts (toasted and chopped)
1 tbsp coconut powder
How to make Chocolate Truffles:
Melt the chocolate in the microwave for 30 seconds.
Place the melted chocolate in heating proof bowl.
Heat a sauce pan and mix the cream, butter and cardamom powder.
Bring this mixture to few boils.
Immediately pour the boiling mixture over the melted chocolate.
Allow the mixture to stand for a couple of minutes.
Stir evenly until becomes smooth.
Cover the bowl and place this truffle mixture in the refrigerator until becomes firm.
It is going to take 6-7 hours or you may have to wait for overnight.
Take out the mixture from the refrigerator.
Arrange the coating of sugar, chocolate, mixed nuts and coconut powder in individual plates.
Roll or coat the truffle mixture with each and every flavor of the plate.
Place them in the lined baking sheet or tray until firm with the coating.
Again cover and keep in the refrigerator.
Chef Tips:
You can refrigerate these truffles for 15 days.
You can also freeze them for 1-1/2 months if kept properly.
Keep these delicious truffles in air tight pouches, bags or containers.
Bring them to at the room temperature just before serving.
You should bake the walnuts and almonds for 5-6 minutes until become fragrant and little bit of brown, before using for coating the truffles.
Always use toasted nuts for the coating purpose for making the yummy and mouth watering truffles.