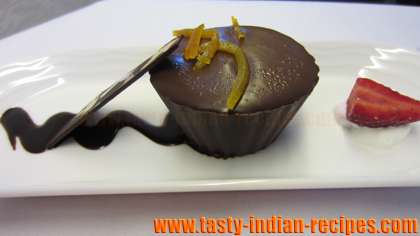 Chocolate mousse is a great desert to serve in any party, function or even in ceremony events. The trick behind making perfect chocolate mousse is the way you mix the egg yolks when the chocolate is warm. Anyways, I have decided to make delicious chocolate mousse at home and along with other fine ingredients, I'm going to you the darkest chocolate that contains 70% cocoa 1 lb bricks.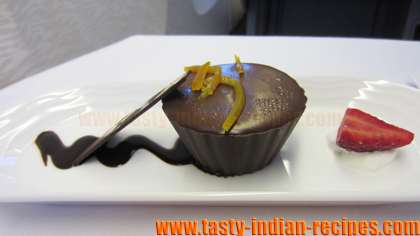 Prep time:
Cook time:
Total time:
Yield: 4 servings
Ingredients:
10 ounces bittersweet chocolate (finely chopped)
 3 tbsp unsalted butter diced
4 tbsp very strong coffee (decaf espresso from Starbucks Coffee Shop)
1 cup heavy cream
4 big eggs
3 tbsp  sugar
Raspberries and extra whipped cream
Few muffin cups
How to make Chocolate Mousse :
Whip the cream till turns smooth and soft.
Refrigerate the cream for few hours.
Take a big bowl, and mix the melted butter, coffee and chocolate very well.
Now put the mixture in a double boiler over the vessel, placed with simmering water.
Stir frequently until the mixture turns smooth.
After few minutes, Remove from the heat and let cool until the chocolate is little warm not too much hot.
On the other hand, whip all the eggs in a bowl and separate the egg whites and egg yolks.
Mix the sugar in egg whites and blend smoothly until soft peaks form.
When the melted chocolate has cooled slightly, stir in egg yolks and gently stir half of the whipped cream as well.
Put the prepared chocolate mousse in individual, greased muffin cups and slowly make a thin layer of fresh raspberries and reserved whipped cream.
Place the muffin cups in preheated oven at 300 degrees F for 6 minutes.
Cool at wire rack for next 2 minutes.
Refrigerate for 6-8 hours for enjoying chilled chocolate mousse.
Enjoy yummy, homemade Chocolate Mousse.
 Chef Tip:
You can eat this delicious chocolate mousse warm or chilled. In both ways it will really melt your mouth.
Garnish it with your favorite fruit, just like I have garnished with some thinly sliced kiwi and a piece of strawberry.