Saffron Flavored Almond Milk Recipe is the flavorful and chilled Saffron based Indian drink made with Milk, Almonds, Saffron and Sugar. The combination of Milk with saffron can be seen around for centuries and almonds are very good for health as well as for mind.
Children likes cold Saffron flavored milk in summer season. After getting free from the exams, kids are playing and having lot of vacation activities, hence in this situation mom's would like to give them healthy drinks and Beverages more than food, and Saffron Flavored Almond Milk is one of them, it is must for the good health and sharp mind of your children.
Saffron is one of the most expensive ingredients and its rich flavor can transform any dish instantly. In India, people make lot saffron based dishes and deserts, because these delicious saffron recipes helps boost your mood. Saffron Flavored Almond Milk is Popular all over in the Middle East and India, and is also known for its medicinal properties.
It is fact that milk provides lot of nutritional values to human body and when it is combined with almonds and saffron, then definitely there is such a royal ingredients come together in this recipe. You can make this drink ahead of time and store it in a pitcher and when required, just serve it in individual glasses.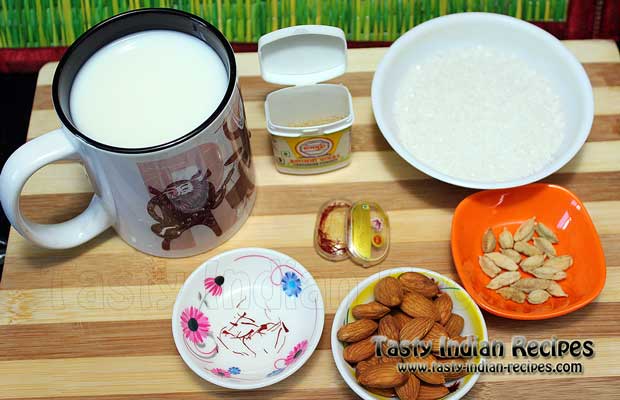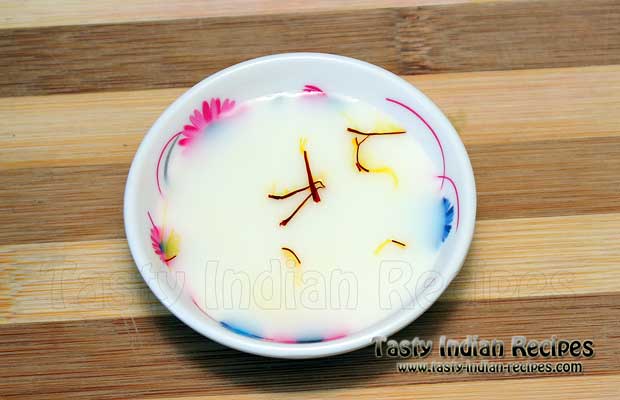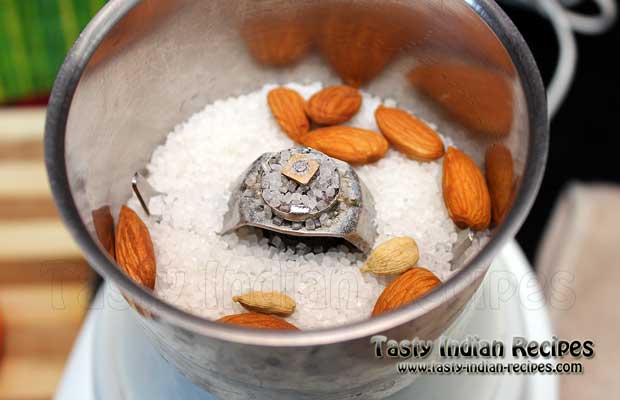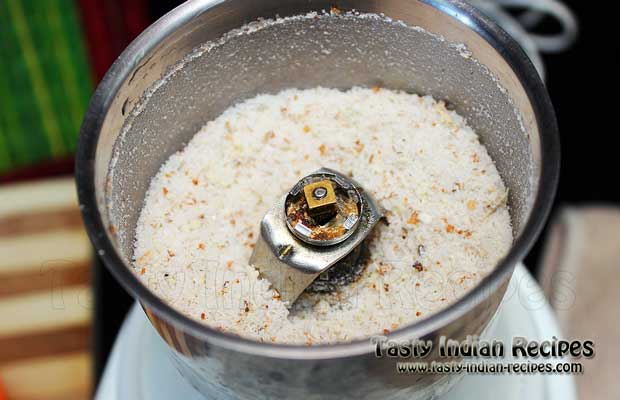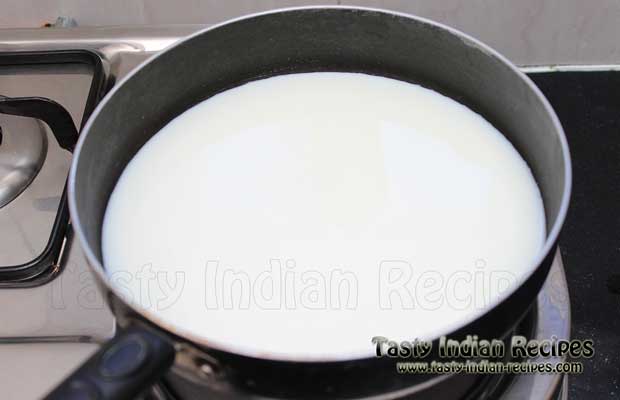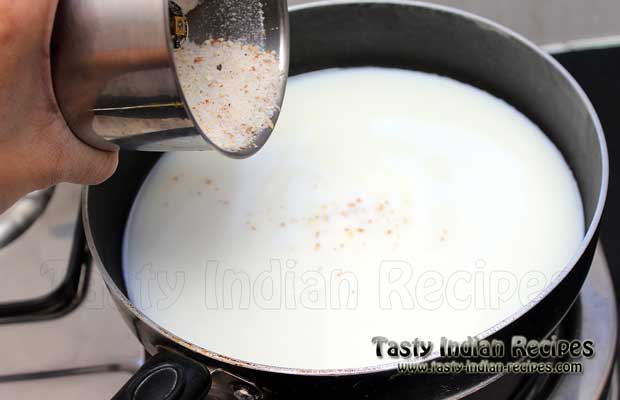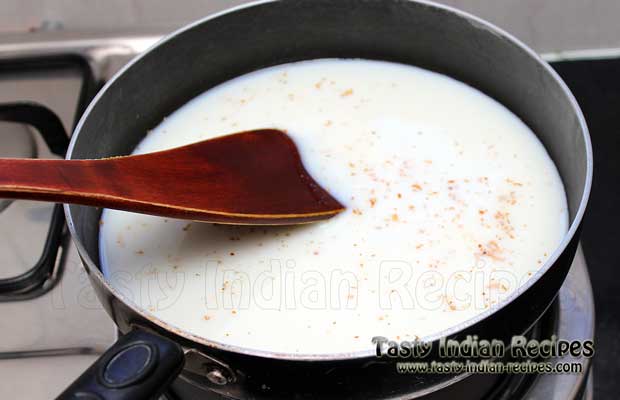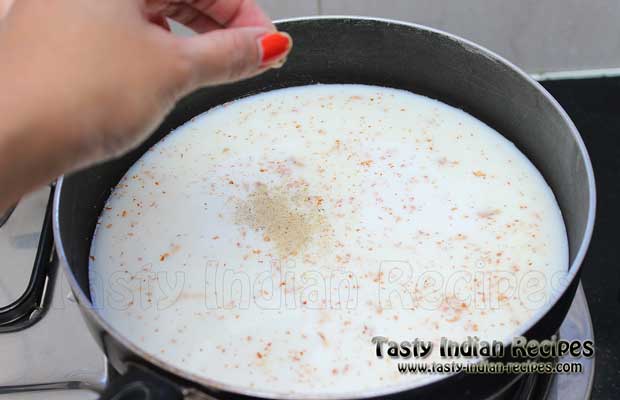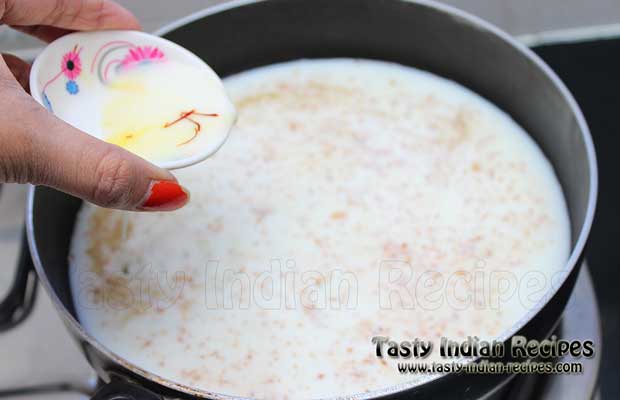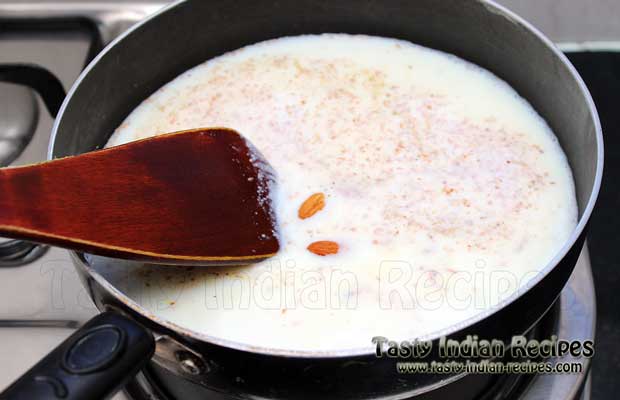 How to make Saffron Flavored Almond Milk:
Saffron Flavored Almond Milk Recipe
Saffron Flavored Almond Milk Recipe is a rich Indian Drink made with Milk, Almonds, Saffron and Sugar. It is good for health and sharp mind of children.
Ingredients
2 cups milk
3 whole cardamoms (Elaichi)
1/8 teaspoon cardamom powder
1/2 cup sugar
2 tablespoon almonds
1/8 teaspoon saffron strands
Few Ice Cubes (optional)
Instructions
Soak the almonds in warm water for about 15 minutes and keep aside. Soak few strands of saffron in 2 tablespoon of warm milk and set aside.
Now mix 2 tablespoon of almonds, 1/2 cup sugar and 3 cardamoms in the mixer and grind for a few seconds for making a smooth powder out of it.
Heat milk in a non-stick pan over medium high flame and add ground sugar mixture in it. Cook the mixture for 2-3 minutes with continuous stirring.
Now add remaining saffron strands, a pinch of cardamom powder and soaked saffron mixture.
Mix very well till the milk thickens and nice aroma of saffron and almonds comes out.
Finally add some blanched almonds and your Saffron Flavored Almond Milk is now ready.
Keep it aside for 10-15 minutes, till it cools down. After that refrigerate it for 1-2 hours to serve chilled.
Notes
You can add few ice cubes in it for quick serving. Chopped pistachios can be also used for garnishing and flavoring of this drink.
Tasty Indian Recipes
Chef Tip:
Honey can be added instead of sugar or adjust sugar as per your taste buds.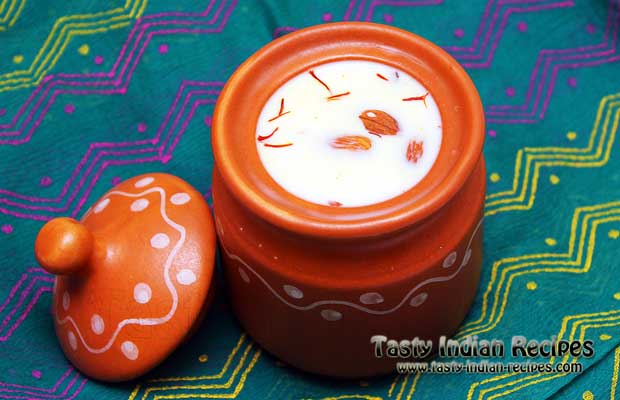 Further Reading:
If you are looking for making variety of Dished for your kids, then do check our Kids Recipes.